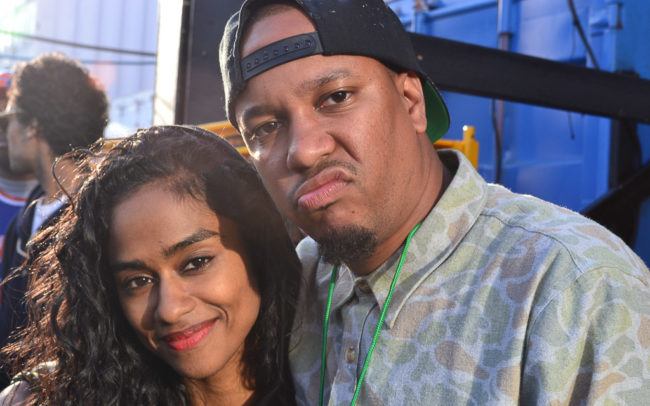 Experienced by Kalesh McQueen
Photography by AdrenalineLifestyles & Akil Ransome Photography
On a sunny spring Sunday afternoon, the Broccoli City Festival hit Half Street Fairgrounds to raise awareness of about healthy living and sustainability to the urban community with music, art, fitness, food and fun. This year Broccoli City teamed up with Earth Day Network, Sierra Club, Dreaming Out Loud, District Department of the Environment, Green for All and Sweat Everyday and many more to deliver this fun-filled event that was hosted by Va$htie and Rock Creek Social Clubs' Kevin "Unkle Scooty" Hallums.
There was so much going on at the Festival, giving the patrons plenty to engage in. Some of DC's top healthy food trucks were on site showcasing nutritional food demonstrations and selling some of the tastiest food I have consumed. There was group yoga, fitness instruction and adult sized Twister, Jenga, and Checkers games that proved fun and comical to all. Local health conscious organizations gave nutritional and environmental education seminars.
There was also an onsite acupuncture and massage wellness center, pop-up marketplace with environmentally conscious vendors and shops, live art from notable street artists Demont Pinder and Jamaal Lamaaj and a sneaker recycling center by Suite Nation. Live performances by locally and nationally recognized Hip Hop, EDM, Alternative Bands, including headliners Big Krit, JMSN and Black Alley. Mayor Vincent Gray also came out and spoke to the crowd.
The U.S. Department of Agriculture has estimated that 23.5 million Americans living in urban communities experience physical and economic barriers to accessing fresh, healthy and affordable produce and food options. Much love to the BC Fest team in doing their part in an attempt to inform others with the hopes to change this narrative. Enjoy the photo gallery and see you next year.