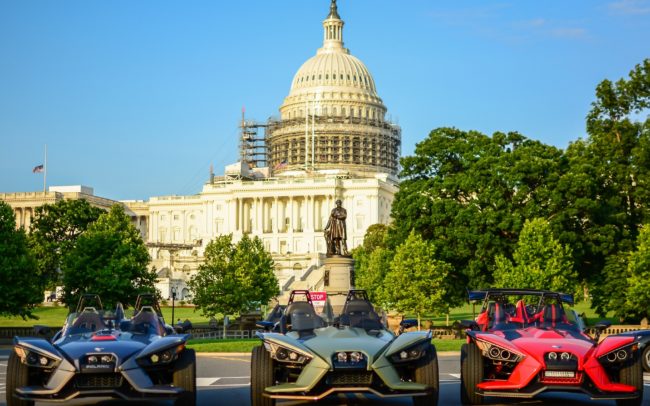 Experienced by Adrian McQueen
Photos by Adrenaline Lifestyles and Throttle Life
The weather in Washington DC wasn't the only thing setting the nation's capital on fire. Excitement was at an all-time high for the 2nd annual Washington DC Slingshot Takeover as it shut the city down this past weekend.  Last year, this event sent a shockwave thru the industry that peaked the interest of the slingshot community, dealerships, sponsors, vendors and Polaris to get involved.
Slingshot gatherings are taking place throughout the nation, with the east coast showcasing some of the wildest custom Slingshots around, so it's only fitting for the Nation's Capital (home of SS Takeover movement) to take this phenomenon to the next level with Coleman Powersports (one of the nation's leading Polaris Slingshot dealers) as the host location and sponsor.
The #SSTakeover, brainchild of entertainment pioneer and Slingshot owner James McRae aka Da Plug was created to bring enthusiasts of this new three-wheeled sensation together to network and join in the camaraderie, fun and appreciation for their love of Slingshots.
There was a full weekend of action packed events setup for all the patrons. The host hotel for the Slingshot Takeover was the Gaylord National Hotel at the National Harbor. Every day and night, tourists at the National Harbor were wowed by the fleet of custom slingshots that zipped in and out of the area going to the different events in town. The weekend started out with a mingle and meet up at Coleman PowerSports, one of the leading Polaris Slingshot dealer on the east coast. Slingshot ride and drives took place all day long with Alpha PowerSports & Slingmods upgrading and installing modifications on site. Coleman PowerSports also serviced oil changes and alignments while you were at the event. Friday evening was the VIP welcoming party that was sponsored by Polaris. Attendees were able to mix and mingle with cocktails & hors d'oeuvres, while partying to the sounds of DJ Kelly B. Everyone raved about how fun and different this experience was, which sparked conversation of interest in seeing events such as this more often.
On Saturday, everyone trekked right back to Coleman Powersports in Falls Church Virginia for a day full of fun events. On site was Alpha PowerSports, Slingmods , Toy'ss Detailing, Eddie Merino Electronics, Metricks, CPS Alignment Center, CPS Maintenance Center, New Orleans SnowCones, Apex Cycle Education, Fed City Hot Sauce and Thin Blue Line BBQ. The ride and drive list filled to capacity as onlookers wanted to test out the Polaris Slingshot to see what the  hype was all about. DJ Gemini kept all entertained as he spun great tunes throughout the event.
Throttle Life CEO, Leon Brittain, brought in the March of Dimes/Bikers for babies as the official charity for this event, being that he works closely with the charity as one of its ambassadors. A 50/50 raffle was held with many great prizes that were given out after the custom show. Proceeds raised from the raffle will benefit the March of Dimes to help fund lifesaving research and programs that work to end premature birth, birth defects and infant mortality. Every vendor supplied gifts that were a part of the raffle. A special thank you must go out to MTX Audio who supplied a complete sound system as a part of the raffle, along with other gifts. The sight of the sound system on display inspired many to purchase tickets for a chance to be the lottery winner. All attendees received gift bags courtesy of Progressive Insurance filled with gifts from Polaris, Coleman Powersports and Megiuar's automotive care products.
The SS Takeover DC Custom Show was nothing short of spectacular and judged in 4 different classes. Peoples Choice, Most Creativity, Best Audio and Best in Show. Each winner received a custom glass trophy, special prizes and a set of noise cancelling headphones from MTX Audio.
On Sunday all of the riders headed out for a trip in downtown D.C. The vibe and energy was electric as a bevy of Slingshots and bikers shut down every block they entered upon their grand arrival lining the streets with custom Slingshots as far as the eye could see.
This gathering of three-wheeled winged beasts was a bit different from others as it involved the full weekend rather than the usual day events. Slingshot owners descended upon the Nation's Capital from New York, Florida, Philly, Atlanta, The Carolinas and many other states to take part in this monumental event.
It was a phenomenal experience to participate in such a historical event of which I'm sure many more will follow. Whether on 2s or 3s, the love shared amongst riders and enthusiast is what fuels the industry and community. Events as the DC Slingshot Takeover absolutely enriches this experience and sub-culture.
For more photos see the photo gallery. Ride safe and Enjoy.