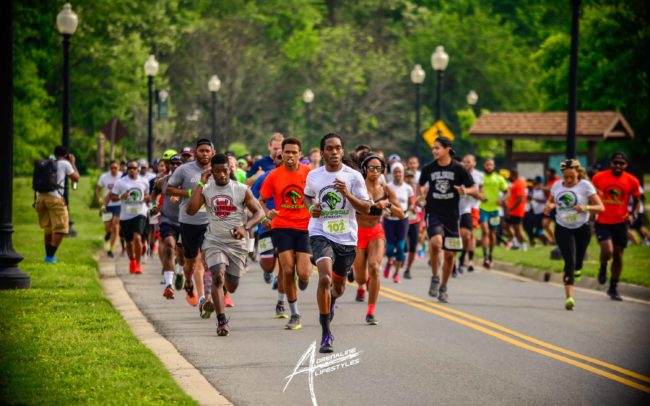 Experienced by Adrian McQueen
Photos by Adrenaline Lifestyles
The Broccoli City Festival is more than just good music, clean eating and gardening. There is a strong fitness focus that has been showcased for four years now, as District Running Collective (DRC) and the Broccoli City team host the official Broccoli City Festival 5K Run & Fitness day. DRC is an urban movement that consists of runners of all levels that take to the streets of Washington DC to promote culture, community & diversity through running and promoting healthy living. DRC was founded in 2013 and has become a staple in Washington DC with their weekly runs. DRC states that they have a simple and effective formula by using the streets of DC as their course, DRC members as their support and successes as a runner as their motivation.
The #BCFest5K kicked off BC Week with a fun filled 5K and fitness program at Anacostia Park.  Attendees packed out the skate pavilion at the park to enjoy fun, music and a few therapeutic miles of running with the DRC and Broccoli City communities. The course was completely closed off to traffic, to keep the runners safe as they enjoyed the scenic Anacostia River during the run. 90+ degree weather and rain was in the forecast but both held off to make out for seasonable weather during the event.
It was such a great feeling to see how DRC and Broccoli City are impacting the city through running. There were runners in attendance from all skillsets and a few first timers. This was truly a no judgement zone as every runner was greeted and cheered on when they completed the race. The chant heard at the line was "No Team Member Left Behind". The team is here to motivate each other and keep the feeling of family throughout the program. After the workout, there was a workout and yoga set led by SoBodyFit with tunes by DJ Dominique from Rock Creek Social Club (RCSC). It was fitting to add RCSC to the event as they have been throwing some of the hottest events in DC for some time now. The vibe was friendly and engaging, so anyone with an elitist attitude or have a need to impress others should find another group because this is not that type of movement.
A huge thank you goes out to District Running Collective, Broccoli City and Rock Creek Social Club for putting this together. It is a must to salute the sponsors for believing and supporting the vision such as Under Armour, Capital Bikeshare, Nuun Active, Clif Bar, LÄRABAR and WearSafe safety tags. Don't wait until next year to meet the group, come on out to their weekly runs at 6:30pm every Wednesday at The Apollo DC on 600 H Street NE, Washington, DC 20002.
Please enjoy the photo gallery from the #BCFest5K.