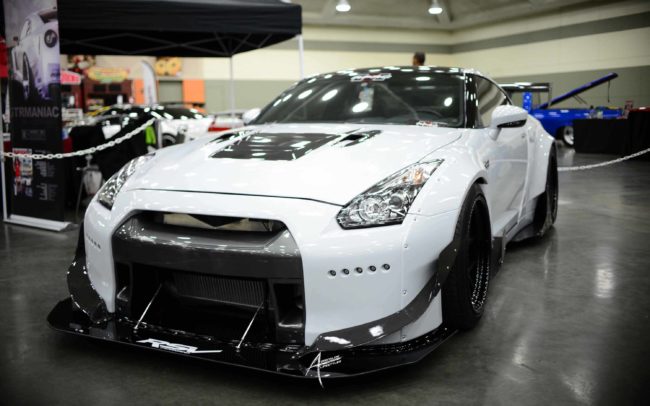 Experienced by Adrian McQueen
Photos by Adrenaline Lifestyles
Each and every year the Motor Trend International Auto Show gets bigger and better with this showcase being no different. The 2017 Motor Trend International Auto Show sets up shop at the Baltimore Convention Center and is presented by the Maryland Automobile Dealers Association, The Enthusiast Network, Motor Trend Auto Shows and CITGO. A weekend full of new, mainstream, custom, luxury and concept cars attracts consumers from near and far. Throughout the show floor there were vehicles and activities for the entire family to enjoy.
A majority of the major car brands were onsite showing off their brand new models such as Lincoln, Lexus, Audi Cadillac, Toyota FCA and many more with over 500 vehicles on site. Ford, Chevy, Toyota, Fiat, Chrysler, Jeep, Ram and Dodge hosted Ride and Drive opportunities throughout the weekend on the streets of downtown Baltimore. The 2017 Motor Trend International Auto Show also offered the chance to see Motor Trend's 2017 Car of the Year, the brand-new Chevrolet Bolt.
My favorite portion of the show is the Live Wire Media custom car showcase with APAC Auto and Abuff and Beyond auto detailing, alongside the Auto Showcase, Euro Star auto gallery and DuPont Registry Live showcase. APAC Auto displayed a bevy of ultra-luxurious rides and customs which raised discussion for the upcoming Fast and Furious 8 movie release in April. The show was set ablaze with an impressive collection of exotics most exclusive automobiles on earth. On site were McLarens, Audi R8's, Lamborghini's, Ferrari's, Nissan GTR's, Rolls Royce's and many more. The highlight of the show was the official Shelby CSX 5500 series tribute car. This is an all-aluminum one of one 427 Roadster.
This is a magnificent show with many tour dates across the country, so be sure to visit when it lands in your neck of the woods. Until then enjoy our photo experience.