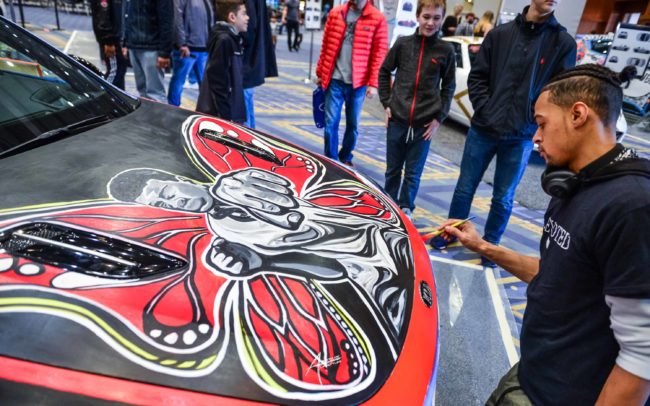 Experienced by Adrian McQueen, Kimatni Rawlins & Leon Brittain
Photos by Adrenaline Lifestyles
The 3rd Annual ART-of-Motion set the Washington Auto Show on fire from the main lobby to the 3rd floor of the Walter E. Washington Convention during the 2018 Washington Auto show. Manifested by Automotive Rhythms (AR) — our trendsetting urban automotive media group — the cutting-edge, graphic presentation highlighted more than 8,000 square feet of engaging and creative eye candy consisting of motorcycles, slingshots, luxury autos, hybrids, fashion, murals, a DJ and the all new grooming station. The emphasis was centered on AR's talented cadre of painters who showcased their visual skills live for attendees to witness and enjoy as white vehicle canvases where transformed into arts of motion.
To kick off the festivities on media day, Shawn "SP the Plug" and Juan Pineda started painting on their respective vehicles while Kimatni Rawlins hosted media throughout the day and educating them about the exhibit.
The 2018 Hyundai Santa Fe Sport was blessed by the artistic talents of Juan "CRI" Pineda. Juan is a D.C.-based visual artist, whose distinct style is characterized as urban-contemporary/street art. This went great with the Santa Fe's modern-looking and slightly aggressive new redesigned look.
The P.A.I.N.T Institute and their workshops educating young, creative minds about artwork on canvas, mural, and vehicle backdrops was a great addition to the Art of Motion exhibit. This offered the students a simultaneous introduction to various STEM topics and alternative careers in the arts.
Nationally celebrated Edward Joseph aka "Ed the Artist" is an abstract visualizer specializing in lines that seek influence using shapes, forms, colors, and textures as evidenced in his work on our 2018 Toyota C-HR infused with sound bites of Premium JBL audio headphones. The popular C-HR looks and feels like something different so Ed highlighted it with energetic and vibrant abstract influenced patterns.
Portraitist Shawn Mitchell Perkins dubbed "SP the Plug" brought his methods of abstract, graffiti, and accuracy of simulation to ART-of-Motion using a combination of oil and acrylics on the 2018 Kia Stinger. He regenerated Muhammad Ali's portrait on the vehicle, bringing "Float like a Butterfly, Sting like a Bee" to life. Shawn also let showgoers' kids paint on the Kia Stinger throughout the duration of the exhibit.
Blind Whino Southwest DC Arts Club recruited up-and-coming, Washington, DC based artist Gabriel D'Elia who is a promising American self-taught emerging artist, with Argentine and Italian roots, based in Washington DC and New York. His modern and urban art is varied because he doesn't plan it out, he just paints what comes in his mind as he works. The works of Gabriel D'Elia have a great sense of humor and he masters the use of black and white. This remarkable talent was displayed on the SMART car that is a pure masterpiece.
A specially wrapped Mazda MX-5 sat in the Art of Motion exhibit. Professor L. Collier Hyams and his students worked hard to create design that proved to be a show stopper. Hyams and his students traveled to DC to participate in ART-of-Motion where they exhibited four accompanying student art car designs printed for display around the auto show. Maria Miller performed artwork on a mural highlighting the Mazda MX-5. Maria derives a lot her personal work's inspiration from issues surrounding race and reproduction.
Joseph Ramos Cruz displayed his artistic talents by painting automotive related canvases throughout the show all while interacting with the crowd about how he creates such magnificent artworks. Joseph is an emerging artist from the island of Puerto Rico, and he currently serves in U.S. military. He specializes in acrylics and black-and-white drawings. He attended a specialized art school in Puerto Rico, before earning a Business Administration degree at the University of Puerto Rico. He is currently developing his work in Northern Virginia and other areas in and around Washington. His oncoming projects will include automotive paints and military history themes.
In addition to the array of vehicles on deck, attention grabbers that captivated included customs such as the 1937 Ford Roadster, a high-stepping highly modified Rubicon edition Jeep Wrangler, an Audi R8, a bevy of Nissan 350Z's, and a Dodge SRT8 Jeep. Included in the exhibit were a group of custom Polaris Slingshots, the latest 3 wheel sensation on the streets. Our featured Star Wars, King Cobra and Joker themed Slingshots were complete showstoppers. But, we didn't stop there with the 3 wheel appeal. Our 2 wheel fans were also treated with the likes of the low-rider influenced Harley-Davidson Soft Tail "Cholo" intricately painted by Xecution Style Kustom Paint and built by locally owned custom shop Legacy Baggers. Gerald's Custom Detailing represented with his sexy custom pearl cranberry Soft Tail aka "Red Bone" while the Harley Wood Stars MC flexed with their custom Street Glide converted Road King "Rayne" with the wet look by 33 Kustom Kolor along with an Aztec inspired custom Street Glide. Contrasting all of this candy coated two-wheel art was the thunderous sinister custom flat and gloss blacked-out Harley-Davidson Street Glide from Bagger Boyz Motorcycle Design Shop who had the 3rd floor shaking during load out with custom audio system. Additional appreciation goes to APAC Auto, Street Dreamz, Bagger Boyz, DMV SS Riders and DMV Motoring for their continued professional support. Sample products from Meguiar's were given out to patrons of the show as well as complete car care gift packs for the "Best of Show" cars on site.
DJ P Cutta blessed the show with his grooming station, offering patrons free haircuts throughout the show. He even managed to spin great tunes to give Art of Motion the party vibe that Art gave off. Jamaal Newman aka "Jamaal Lamaaj" offered his famed realism style for creative works by displaying his artistic talents on the grooming station mural wall.
ART-of-Motion also featured Chris Turner, an automotive care specialist, who gave edifying tutorials to patrons of the show. These sessions educated automotive enthusiasts in the area of appearance enhancement and maintenance of their vehicles. Chris is 1 of 130 installers worldwide that are qualified to install CQuartz Finest paint protection. He is also the automotive care specialist for a few of the custom sporty vehicles that participated in ART-of-Motion.
Nissan provided the one of a kind, multi-million dollar Nissan Maxima, that is one of seven custom show cars Nissan has produced with Industrial Light & Magic and Lucas film for Star Wars: The Last Jedi. The Maxima is an homage to the villainous Captain Phasma and creating it took hundreds of hours of handwork by Burbank's Vehicle Effects shop. Phasma's Maxima is covered in high-gloss silver armor and the front fascia is shaped to form the character's mask. Both the fascia and hood are hand-crafted from aluminum and a custom red accent line runs the length of the car.
TV News coverage was heavy from stations such as NBC 4, Fox 5, ABC 7, News Channel 8, CBS 9, and many more. A special thanks to JBL for keeping the painters laced with the latest Bluetooth, over-the-ear headphones so they both could perform while entertained. As exciting as this year's installment was, team AR is already anticipating the 4th Annual ART-of-Motion Exhibit at the 2019 Washington Auto Show that will take place in the Spring of 2019. Thank you John O'Donnell for the opportunity! Please enjoy our photo gallery.