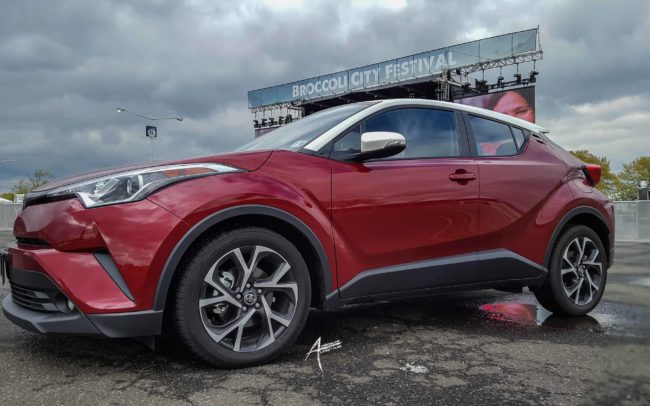 Experienced by Adrian McQueen
Photography by Adrenaline Lifestyles
This past Saturday Broccoli City partnered with Live Nation Urban and Toyota Green to present the 6th Annual Broccoli City Festival at RFK Stadium Festival ground in Washington, DC. Over 33,000 people covered Lot 8 at RFK Stadium for day full of fun, music, food and healthy living.  The Broccoli City Festival is an eco-inspired music and art festival that takes this opportunity to bring in urban millennials from around the world to learn about healthy eating and environmental sustainability.
Upon entering the festival grounds, patrons were greeted by the energetic Toyota Green Initiative staff with a display honoring Earth Day. Showcased were the 2018 Toyota Prius Hybrid, the 2018 Toyota Camry Hybrid and the 2018 Toyota Rav 4 Hybrid, which are all sleek in design and eco-friendly. Each vehicle is unique in its own rights and fitting for the Broccoli City Festival theme.
The Toyota Green Initiative (TGI) is a movement to help you find smart, simple ideas that can make a positive environmental impact in your community and in your life. Working with Historically Black Colleges and Universities (HBCUs) and music festivals, TGI is leading the way to a better tomorrow.
The Toyota Green exhibit wasn't just a showcase of cars but an experience full of many different engaging activities. Guests exercised on stationary bikes, jump rope and become a creative at the Do-it-Yourself station.  The energy at this display was amongst the highest in the lot. Dancing, laughter and fun perfectly describes what Toyota brings to BC Fest. What a great way to show how Toyota believes in the need to promote the ideas of ecology, encourage respect for life on earth, and highlight growing concern over pollution of the soil, air, and water. A clear message given, was that living productive and sustainable lives are the foundation of a healthy community.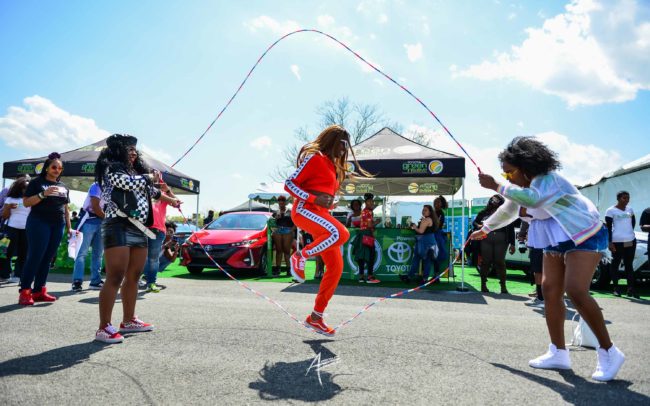 Nestled between the TGI display and the Toyota Stage was the Toyota Music showcase. Toyota seeks to connect with audiences by lending their hand in the discovery of new music and emerging artists. This booth displayed the 2018 Toyota C-HR and the 2018 Toyota Camry Hybrid. At the Toyota Stage, DJ Domo and DJ Jerome Baker III kept the crowd grooving with his unique and killer playlist. There is no debate that when the Rock Creek Social club team is tasked to entertain your crowd, they will not disappoint. Jeff Gordon as well as "Grits & Biscuits" kept the Toyota stage on fire.
The Broccoli City Festival had a Ferris wheel, food trucks, live-art installations, a pop-up market, and a plethora of resources about how to live a healthier life. To be in one place, with so many creative minds, was very refreshing and exciting for me and many others. Broccoli City's organizers are working to ensure that its message isn't lost amid growing popularity.
"Since we launched on Earth Day in 2013, BC Fest has showcased the most groundbreaking artists artists in music and empowered over 20 thousand millennials to become change agents in their community," said Broccoli City co-founder, Brandon McEachern. "Music is one of the most powerful ways to bring people together, so we're confident this lineup does just that and look forward to delivering another impactful event."
Tickets were also earned through the ChipN campaign. Broccoli City Inc. 501c(3) is engaging millennials to help build their communities by being active participants through community service actions. Volunteers earned a ticket to the festival by planting trees, preparing meals for the homeless, collecting trash and recycling materials. Helping reach this great achievement were community partners Toyota Green Initiative, Dreaming Out Loud and other community groups.
The festival was complete with many musical acts, national and local. Both stages had two Broccoli City banners on each side and a large digital screen served as the backdrop of the stage. Jameson, Martell and Mochabox coffee each had VIP lounges that were packed out.  The show was hosted by Scottie Beam and Rodney Rikai. Past host and Rock Creek Social clubs own Kevin "Unkle Scooty" Hallums even jumped back on the mic to speak the crowd. Community speaker and philanthropist Tony Lewis Jr. made an appearance and spoke to crowd, encouraging the crowd to volunteer and help out in the community. Lightshow, Hood Celebrityy, Daniel Caesar, H.E.R., Nipsey Hussle, Rich the Kid, Migos, Miguel and Cardi B showed out on the stage and gave the crowd memorable performances.
This event had so many more partners that helped make this festival happen with fun and engaging displays such as Lyft and CBS Radio/WPGC 95.5, DTLR and Puma setup a boutique style display showing off some of Pumas latest fashions. In anticipation of the blockbuster release of Avengers Infinity War, Allied Moxy brought out a cool display for fans to engage in.
I must send a huge thanks to the Broccoli City team for making this event happen and giving Washington DC yet another spectacular event to look forward to. The team is compiled of co-founder Brandon McEachern co-founder Marcus Allen and Darryl Perkins who is the director of programs and community engagement. There are more people involved with this project, to many to name, but their hard work does not go unnoticed and is appreciated.
Toyota supplied me with the 2018 Toyota C-HR for the week as I covered BC Week. The C-HR was stylish, fuel efficient, very reliable and fun to drive. Thank you Toyota for giving me the opportunity to ride around in style. Toyota and Burrell have done an excellent job at the event and creating a fun atmosphere for all. Follow everything from the Broccoli City Festival on social media searching the hashtags #BCFEST2018, #ToyotaGreen & #ToyotaGreenInitiative. Please enjoy my photo gallery.