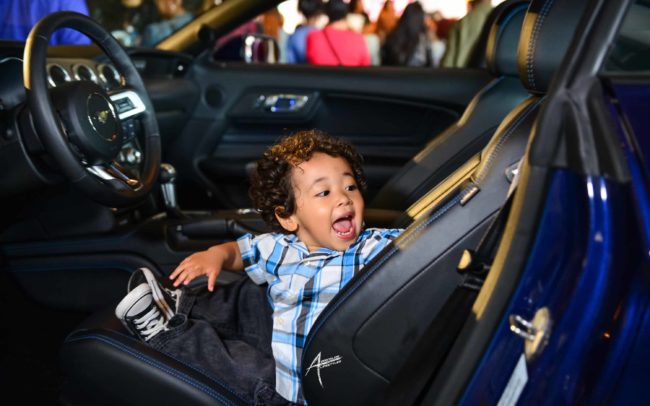 Experienced by Adrian McQueen
Photos by Adrenaline Lifestyles
Ford and Essence magazine came back to DC in Dock 5 at Union Market and presented My City 4 Ways showcasing the all-new 2018 Ford Mustang, along with a chance to experience a ride and drive in a Ford vehicle of your choice. On hand were a nice selection of vehicles such as the Ford Raptor, the Ford Fusion, the Ford Mustang and more. Guests were treated to complimentary valet and then met by a Ford Brand Ambassador for an escort into the My City 4 Ways festivities. This event included culinary demonstrations, art installations, complimentary make up sessions and portrait photography
My City 4 Ways is a fusion of food, music, art and style celebrating Washington, DC. The event was hosted by Media Personality, Tai Beauchamp. Dock 5 transformed into a stunning and intimate boutique in DC for celebrities, musicians, influencers and tastemakers. Patrons of the event dined on complimentary hors d'oeuvres along with juice infused beverages. Chef Resha and Chef Lauren treated guests to a truly delicious menu in Food Alley with items such as BBQ Mumbo Chicken Salad and Chocolate City Trifle. Music Boulevard was guided by the sounds of DJ Little Bacon Bear.
The live band really sent me over the top, being that every native Washingtonian loves GoGo music, so "Black Alley" really gave it that hometown feel. Art by Hamilton Glass was displayed in the venue, as well as a live art installation. Guests were also able to take home a special sketch of their creative skills by coloring in a Mustang Pony, celebrating the Mustang GT that set the room on fire. Wrapping up the show was an electrifying performance by DC's own Grammy-nominated, BET Awards-winning recording artist Raheem DeVaughn.
There was an informative panel of entrepreneurs such as Arsha Jones of Capitol City Mambo Sauce and Tees in the Trap, Melissa Butler, the founder and creator of a line of vegan lipsticks called The Lip Bar,  Roc Nation apparel's Emory Jones. The panel was hosted by Tiffany Aliche, aka Tiff the Budgetnista.
American singer-songwriter and now chef, Kelis gave guests a chance to try some of her favorites passed hors d'oeuvres out of her cookbook, "My Life on A Plate." Kelis was excited to meet her fans, take photos and enjoy a fun afternoon in DC. Kelis later took to the stage and held a discussion with Tai Beauchamp about her life as a mother, singer, songwriter, entrepreneur and chef.
Again, I can't stress enough that this show truly had a hometown feel that tapped into vibes of many that attended as you could see in the smiles and hands raised across the room. Follow @Essence, @Ford and #MyFordCity on social media to check out all the fun and when the tour might stop in your city. Enjoy the photo gallery.