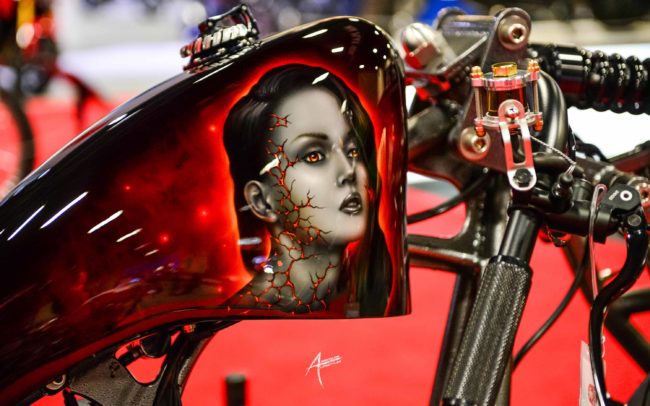 Experienced by Adrian McQueen
Photos by Adrenaline Lifestyles
Starting on Friday and running until Sunday the Washington Convention Center served as the host for the annual mid-Atlantic destination. The IMS is a nationwide tour allowing biker enthusiasts to interact with the major motorcycle brands, parts, apparel and customization shops partaking in each tour stop. Cruisers, sportbikes, dirtbikes and atvs were on display to engage interest from riders of all walks of life. Coleman Powersports filled the void of some of the larger manufacturers that did not participate in the show this year such as Ducati, Polaris and Yamaha. New to the show was the IMS VINTAGE section. The Nation's Capital Norton Owners Club brought out the very best of vintage, classic and retro-style motorcycles that Washington D.C. has to offer.
J&P Cycles presented the Ultimate Builder Custom Bike Show with a few enticing rides from amateur builders and riders who participated using their own machines. I am deeply rooted in the motorcycle community and felt that the turnout in custom motorcycles was poor in relation to past years. There are a large amount of custom breathtaking motorcycles in the DC Metro area so maybe a bit more outreach is needed prior to the show to reel them in. The bikes that were on site enticed onlookers and sparked discussions regarding concepts for the biker aftermarket. The Throttle Life, Bagger Boyz and Sportbikes INC exhibit showcased some of the hottest custom vehicles in the show with the custom painted Joker themed Polaris Slingshot and the custom painted drag bike titled Freak Show from Custom Rocketz Racing. Meguiar's also supplied the team with giveaways for the patrons of the show and for the top voted cycles in the custom show.
My favorite part of the show was the Shift exhibit. This is a new lifestyle inspired space to Explore, Shop, Socialize and Experience the progression of the motorcycle culture. Featured at the exhibit were very fashionable brands that are both new and known to the industry, many of which play across multiple channels; all of which offer a fresh prospective about life on two wheels and beyond. It was also great to experience the artwork from Jason Wharton who is one of the most unique artists in the nation. Makoto Endo showcased his talent by painting motorcycle apparel live at the show.
The Kids Zone Presented by Allstate enticed patrons to bring the family to the show so the kids can explore life on two wheels. This environment allows kids to experience the challenge and thrill of riding a bike on unique terrains. The refreshed Progressive Parlor was such an added treat being its own cultural community for entertainment and service. Progressive is sharing it's love for motorcycle riders by hosting maintenance seminars, a custom motorcycle sweepstakes, custom tattoo station and motorcycle gear giveaways and all within a single space, acting as a beacon for education and entertainment.
Enjoy our photo experience!