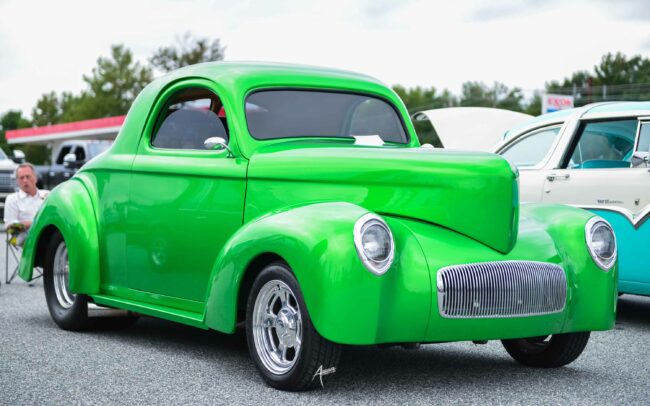 Experienced by Adrian McQueen
Photos by Adrenaline Lifestyles
Over 400 cars showed out on a spring day in April for a show like no other. Chuck Mahla, co-host Vince Schiavone and the team pulled off the fourth annual Children's Miracle Network Car Show benefiting the Johns Hopkins Children's Hospital of the Children's Miracle Network (CMN). The Children's Miracle Network (CMN) is an organization dedicated to raise funds and awareness for 170 children's hospitals throughout North America. All of the funds donated to the CMN car show help local kids at Hopkins Children's.
The parking lot of Lockheed Martin was set on fire with all the great automobiles that were on site. This was a nice venue for the show due to the space, accessibility and layout. Lockheed Martin stepped up in a major way by donating it, which otherwise would have come at a hefty cost. On site were exotics, race cars, classic customs, imports, motorcycles, lifted trucks, army vehicles and even a boat. DJ Russ kept the crowd entertained as great tunes were spun throughout the afternoon.
Michael Mckinney, his dad Brian McKinney, Dawn Kaminski McKinney and the whole team from McKinney's Catering stepped up to make sure the event had amazing food and helped the shows progress the whole way. Teddy Kulisiewicz & Danielle Kulisiewicz from Hammer Motorsports were also sponsors of this magnificent event. This event would not have possible if it weren't for each and every sponsor and vendor that contributed to the event. A special thank you was also given to Vincent Schiavone, Sevren Chwang, Angela Othitis and Ray Rosen for all their efforts in making the event a success.
There was also a silent auction to raise money for the Children's Miracle Network with a lot of great items. APAC Auto, No Limit Baltimore and A Buff and Beyond Automotive Solutions had a few of the hottest booths on site showcasing some of the nicest rides there is. Chris Turner, A Buff and Beyond Automotive Solutions, demoed his automotive detailing packages that cover daily drivers, high end exotics and even your hot rods. APAC Auto set it off with a few of the highest performance rated vehicles on the street there is. Meguiar's stepped up in a major way with giveaways for the show patrons and car owners as well.
This year the event raised $32,000 for Children's Miracle Network which exceeded all expectations. This is a testament as to how many people believe in this show. Contrary to popular belief, Chuck and his team do not work for Hopkins or CMN. This event is curated alongside school, work and their daily lives. I do hope this show continues for many years to come and it receives more and more support every year. Follow #CMNCARSHOW2018 on social media for all the excitement from the show. Enjoy my photo gallery as well.