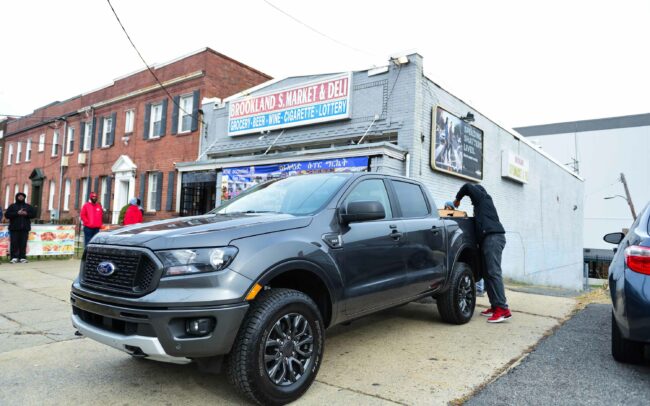 Experienced by Adrian McQueen
Photos by Adrenaline Lifestyles
For the past 8 years Silas Grant — a native Washingtonian of Ward 5 — commingles friends and family to supply an ample amount of turkeys and care packages for more than 400 families in N.E. Washington, D.C. I have taken great pleasure assisting with this movement and watching its growth from inception. As a component of a larger scaled nonprofit organization dubbed Project Giveback, the ideology was birthed in 1995 when a few friends came together and made Thanksgiving a little brighter by delivering grocery baskets to six impoverished families. Project Giveback is now 24 years into existence and consists of a profuse number of volunteers supporting the citywide initiative which distributes well over 4,500 healthy food baskets and other necessities to local families in need. Project Giveback has numerous distribution spots throughout DC on what is now dubbed #GiveBackSaturday , but the main distribution hub is now at the DC Armory. Thanks to the generosity and philanthropic nature of the good people at Ford, we were provided a 2019 Ford Ranger Supercrew 4×4 to deliver the goods to all at-need families.
All week Silas Grant worked feverishly collecting names and addresses for the at-need families who would be receiving these care packages. The morning started out at Walmart loading up all the trucks with turkeys that would be delivered. To the at-need families. I received the 5 foot bed model Ranger that proved very efficient when loading the turkeys and boxes, being that the donations reached heights this year than they ever have before.
Ward 5 Council Member Kenyan McDuffie, Adrenaline Lifestyles, C.I.T.L.R (Champagne In the Locker Room) and many more manned the Edgewood post, giving out goods to the community. As we delivered turkeys around the city I could surely tell that we were putting the 2.3L EcoBoost engine to use. Throughout the day we received many compliments on how we arrived in style. The 17" Magnetic Painted Aluminum wheels kicked off most of the conversation, followed by how the Sport Appearance Package really set everything off.
Instead of the typical pickup truck, which usually only features two front doors, we were offered the SuperCrew model, with a rear bench allowing the truck to seat up to five people. The four doors sure came in handy as all of us got in and out at each stop to make the deliveries.  It was fun piling up in the Ranger comfortably while the goods were secure in their dedicated placements. Driving the vehicle around was a pleasure and came replete with enough compartments to house our checklists, laptop, bags and phones. Also, the Rear Back Up Camera and Rear/Forward Parking Sonar was very much needed through some of the tight driveways and city alley streets. The model used comes in at $40,605.00 and very well worth price tag considering all that can be done with it.
I always say, "As blessed as we are, it is our duty to give back to those that are less fortunate." I will continue to live by the motto and move forward with uplifting the communities around me. Stay tuned as we continue reaching out to families and communities in need of assistance. Enjoy the photos.