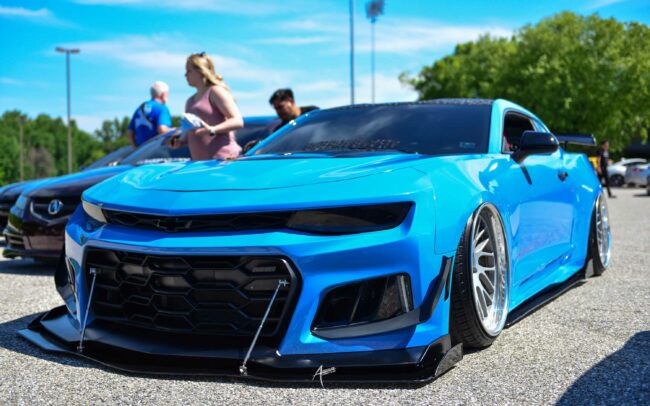 Experienced by Adrian McQueen
Photography by Adrenaline Lifestyles
The parking lot at the Bowie Baysox Stadium was on fire this Memorial Day Weekend with the RevNation Car Olympics. This was not your usual car show or meet. This was an event that focused more on giving back to those in the car community than just showcasing nice rides. Yes, some of the best cars around were present at this show, in various different classes, but the comradery amongst all in attendance was a breath of fresh air.
RevNation was founded and established in 2018. RevNation was started because they felt like the car community deserved more than trophies when showing off their rides. It is important that the car owners who put their time and hard-earned money into these builds feel special and truly recognized for all the hard work and money that they put into their cars. Keeping this in mind, the Revnation team pulled out all the stops with cash prizes for the show winners and various door prizes for the for the patrons. Amazon Kindle tablets, remote control cars, mountain bikes and more were given out. Meguiar's came on board and sponsored car cleaning kits and swag bag items for show winners.
The Dyno machine received a lot of action, with a line full of high horsepower beasts waiting to see what type of power their engines put out. This was family friendly event, with kids and pets filling out the lot amongst the crowd of car enthusiast. The kid power wheels race was so much and a great addition to the show. The kids loved being in it and the parents enjoyed filming and laughing during it. Kudos to the RevNation team, Police Department and the Bowie Baysox staff for making this happen. This was a great show and I can't wait to see what the RevNation team has in store for the next event. Please enjoy the photo gallery.