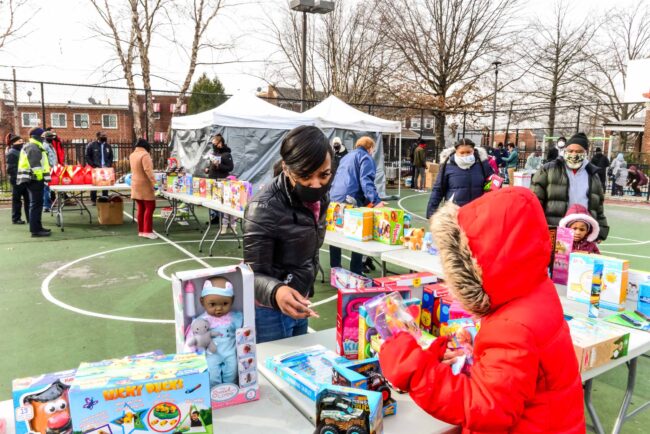 Experienced by Adrian McQueen
Photos by Adrenaline Lifestyles
We are back in the giving season and Ward 5 Council member Kenyan McDuffie, along with his team, make sure to have an impact on the community. This year was a bit different due to COVID-19, so to adhere to the social distancing guidelines volunteers were limited and we had to limit the amount of guests in the giveaway area at a time. Even though the wait time might have been somewhat no longer, no one was turned around as there were enough gifts, meals and PPE for everyone.
I was brought into this initiative by my friend and colleague Silas Grant. Silas is a native Washingtonian of Ward 5 and pulls together friends and family to support in all community efforts within these N.E. Washington, D.C. neighborhoods. I have taken great pleasure assisting with this movement and watching it grow each and every year.
The event took place at Brentwood Recreation Center. Due to the pandemic, the event was held outside on the basketball court.  Ward 5 staff and Metropolitan Police Department staff passed out gifts to every family in attendance, while Local 36 and the DC Firefighters provided over 700 mouth-watering BBQ meals for everyone to take home. Step Afrika provided over 500 packages of hand sanitizer, gloves and masks and reminded everyone to wear their masks, wash their hands and keep your social distance as we try to beat this pandemic.
Thanks to the generosity and philanthropic nature of the good people at Kia, we were provided a 2021 Kia K5 GT-Line to deliver meals, PPE and poinsettias to the Senior Citizens that could not attend the outdoors event. The Kia K5's 16-cubic-foot trunk is slightly larger than those of many midsize cars. It proved large enough to fit the boxes of meals and used to make various deliveries.
As we delivered the meals around the city I could surely tell that we were putting the turbocharged 1.6-liter four-cylinder engine that makes 180 horsepower and 195 lb-ft of torque with an 8 speed automatic transmission to use. Throughout the day we received many compliments on how we arrived in style. The model that we received came in a Passion Red hue. There are also the Z-shaped running lights, LED headlights, LED Fog Lights, a textured grille and a chrome strip that runs along the window line. The GT-Line model  K5 that we had sat on 18 inch sport alloy wheels.  This sleek four door sedan is sporty and luxurious, a definite head-turner. The model that we reviewed comes in at $28,400.00 and very well worth price tag considering all that can be done with it.
I always say, "As blessed as we are, it is our duty to give back to those that are less fortunate." I will continue to live by the motto and move forward with uplifting the communities around me. Stay tuned as we continue reaching out to families and communities in need of assistance. Enjoy the photos.