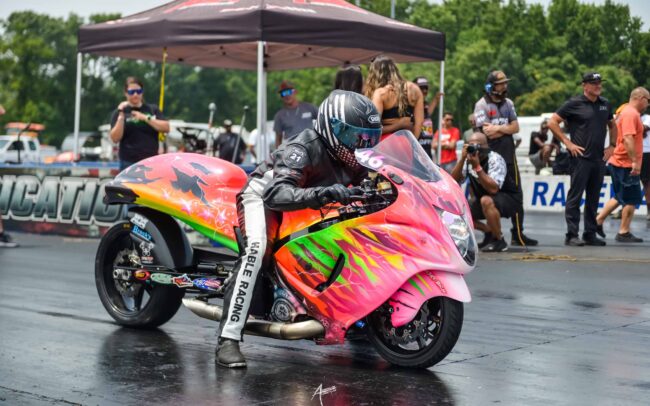 Experienced by Adrian McQueen
Photos by Adrenaline Lifestyles
After taking a year off due to COVID-19, the annual WPGC DC Bikefest came back to Maryland International Raceway (MIR) in Mechanicsville, MD and set the track on fire. Riders from near and far descended upon Maryland International Raceway to enjoy the races, sound contest, custom bike show, live music performances, featuring Sirius n Company. The lovely women in the bikini contest from the International Bikini Team surely give the fans enough to keep their adrenaline pumping all day. The Xtreme Dragbike Association (XDA) also attracted racers from many other states to participate in this fun filled event. The XDA is known as the nation's largest motorcycle drag racing series hosting racers from all over the country at each event.
Motorcycle supporters were on site for this for 3-day festival along the vendor midway. The XDA class structure is very diverse and appeals to novice and hardcore motorcycle enthusiasts. Classes include: Orient Express Pro Street, DME Racing Real Street, Maxx ECU Pro Xtreme, HTP Performance Super Stock, Vance & Hines 4.60 Index, XDA Boosted Bulls, APE Nitrous Bulls, 365 Transport Monster Bulls, Tommie's Motorsports DMV Bulls, 1 Stop Speed 5.60 Index, HTP Performance Grudge, Mickey Thompson Tires Top Sportsman, MPS Pro E.T. , Brock's Performance Street E.T. , VooDoo Components Bracket Bash and the Hard Times Gambler's Race.  A total of 810 riders participated in these races, blaring down the track and setting records all weekend.
The pits were packed as Team Money Cycles, Bagger Boyz and Backyard Baggers came together to produce one of the biggest sound competition and bike show in XDA history. The group even held a seminar engaging the community about the importance of motorcycle sound and how to achieve the best results in competition.  The creativity placed in these big wheel motorcycles is nothing short of breathtaking.
WPGC hosted the Bikini Contest with the beauties of the International Bikini Team. The crowd erupted in cheer as these lovely ladies walked the catwalk. Various musical artists graced the stage to entertain the crowd.
It was an all-around great event for the Xtreme Dragbike Association (XDA) and the entire DC Motorcycle Community. The 21st annual WPGC Bike Fest hosted a record sized crowd with over 9,000 fans in attendance! The XDA continues to deliver the largest motorcycle drag racing event in the industry.
Enjoy the photo gallery and see you at the track next year.