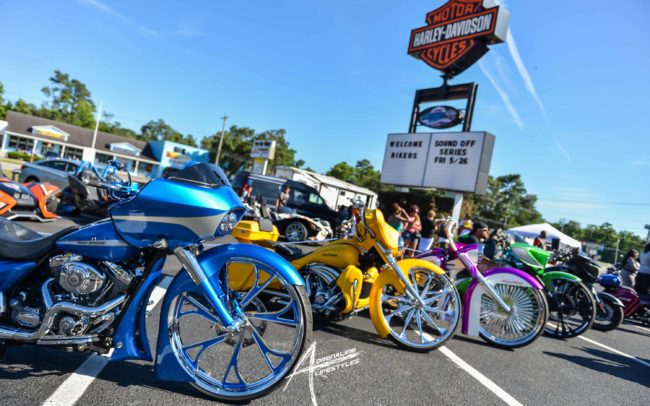 Experienced by Adrian McQueen
Photos by Adrenaline Lifestyles
Myrtle Beach Bike Week was the destination for the kickoff of the 4th Annual Sound Competition by Uptown MotorSports. This year was a bit special as the team kicked off their first ever TMC Sound Off Series competition. This joint venture between Uptown MotorSports and Team Money Cycles undoubtedly was a success, with a few more stops to hit on the "Sound Off Series" tour. For the fourth year in a row Uptown Motorsports, Team Money Cycles, Backyard Baggers, Bagger Boyz and many more set Myrtle Beach on fire with the Baddest Bagger Audio Competition. This event serves as the official kickoff to Myrtle Beach Bike Week and the turnout is always incredible.  Each year the event grows in participants and crowd size. Harley Davidson of Myrtle Beach hosted the event this year, using up every bit of its parking lot, along with adjacent business space for overflow parking.  Big wheels, custom painted Harleys and even sportbikes arrive from all over to show off their unique sound systems. The level of detail that the owners and builders are putting into these motorcycles levels up every year. Imaginations are truly running wild.
Participants entered the contest for the winning trophy, or should I say "Championship Belt", along with prize money and bragging rights. With Munir not in attendance to battle it out with Joey from Backyard Baggers, a few more attendees filled that void with stunning systems. The show stopper was clearly Blake Thompson and David Crabhills "One Time Customs" Bagger. Standing right next to the bike when David turned up the dial, I felt the bass in my chest.  At that moment I knew that they didn't come to play any games.
This event is bigger than bikes.  Raffles and donations from the event went to the Courageous Kidz, Foundation. Courageous Kidz, Inc. is a non-medical organization that focuses on families devastated by childhood cancer. It was so touching to see the smiles on the kid's faces, the staff interaction with the crowd and everyone coming together to raise funds to help battle a disease that has affected everyone in some shape or form. The crowd thoroughly enjoyed the sights, competition and fun. A huge thanks has to go out to Harley Davidson, Meguiar's , SteelHorse Law and many other sponsors for supporting the continued success of this event. Enjoy the photo gallery.