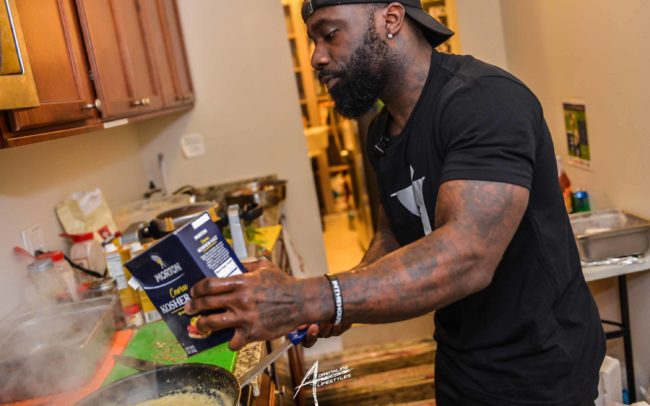 Experienced by Adrian McQueen
Photography by Adrenaline Lifestyles
What a fun evening at Recreative Spaces in Mount Rainier, MD as Chef Tobias Dorzon (TD) held his tasting event for the upcoming launch of the Victory Food Truck. In the heart of the Gateway Arts District, the tasting was attended by close friends, family and supporters of Chef TD. The location was perfect for an intimate occasion such as this for mixing and mingling, along with enjoying the delicious food that was set out for all to consume.
Chef TD was born and raised in Washington, DC and is a celebrity chef and the founder of Victory Private Chef Co. Chef TD spent some time in the NFL and CFL before his focus shifted toward culinary art. Tobias is inspired by international flavors, gaining his cooking techniques from his Liberian father. Many pro athletes, celebrities and tastemakers have hired Chef TD as their personal chef. He prepares meals for them during the week and also caters their private events. In addition to all of this, Chef TD manages kitchens for a few restaurants as well as being a big philanthropist. Most importantly, Tobias is a great father to two daughters that he loves and adores.
Various dishes such as Mac n Cheese, Jerk Chicken, Love n Waffles and much more were spread out amongst the venue. The food was amazing and there was no shortage of patrons returning for seconds and thirds fillings of their plates. Chef Tobias and Chef Duan really made a great impression on what to expect once the truck goes live. Patrons also spent a lot of time with the photo booth setup by DMV Smylez. Chef TD's manager, Patrice Cameau, from Park 9 Media did a spectacular job in curating the event.
Follow @TheVictoryTruck & @KingChefTD on social media for all the updates regarding The Victory Food Truck.