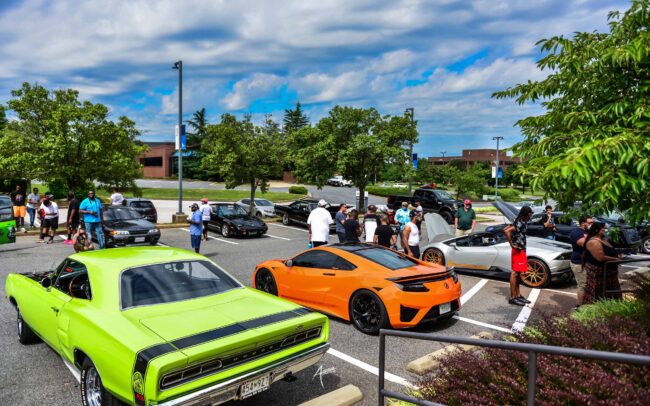 Experienced by Adrian McQueen
Photography by Adrenaline Lifestyles
Automotive related events have always been a big part of my life, for as long as I can remember. Track Days, Car Meets, Car shows and Cruise ins are staple events in the automotive community. Each bring the opportunity for car enthusiasts to come together to show their passion for all things automotive by sharing their stories and showing off their rides.
Over the years Sudon Williams, Vice President of KitchenCray, and I discussed having a car event with KitchenCray but we never put the plan in action. One day I mentioned it to the RevNation team at a car show and the immediate response was "Let's Do It".  The RevNation team is a group of car enthusiasts that have taken over the DMV by storm with their events. The RevNation team prides themselves in wanting people to feel special and to feel like they've been truly recognized for all the hard work and money that they put into their cars. So to partner up with them for this event was a no brainer.
Well, we kicked off the first event and it was a hit. The lot started filling up around 9:30 am and the good food from KitchenCray sent the good vibes over the top. Chef JR and his staff have that type off effect on people. Good music filled the air while car enthusiasts showed off their tuners, classics, exotics, and muscle cars to the crowd.  Patrons and staff of KitchenCray enjoyed the camaraderie of the event, especially the kids that pointed to cars shouting "I have never seen that one before." Ultimately, we want to hand this car hobby down to the next generation, as it was handed to us.
My friends and I have discussed the need for our local area of Prince Georges (PG) County Maryland, to have a legit Cars and Coffee style event with the type of cars typically only seen at Katies Cars and Coffee, HuntValley Horsepower or on TV. Cars have a special appeal to some folks. It does not matter if you are young or old, wealthy or not, your race, nationality or religion. To be able to bring this type of good vibes to our area is something that is needed.
Cars and Brunch will take place every 1st and 3rd Saturday of the month, weather permitting, at KitchenCray Café,  4601 Presidents Dr, Lanham, MD 20706 . The event is full of nice automobiles, good vibes and even better food. You do not have to own a nice car to show up.  Just come out, commune with other car enthusiasts, partake in some phenomenal food and have a good time. Please enjoy my photos from kick-off event.