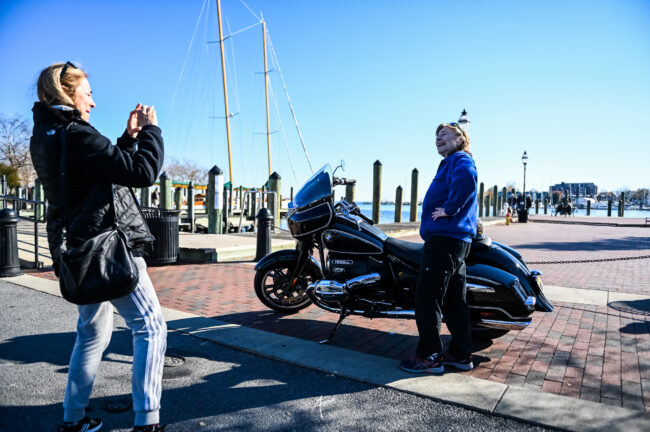 Experienced by Adrian McQueen
Photography by Adrenaline Lifestyles
Cars and Coffee, cruise in style events are the perfect place to bring your vehicles and mingle with other automotive enthusiast, so it was only right that I pull up on the 2022 BMW R 18 Bagger.  A mix of sun and clouds on this Sunday set the scene for the day. Within 30 minutes the lot began to fill up with everything from Classic Cars, Exotics, Tuners, American Muscle, Luxury and Motorcycles.
Showcasing the 2022 BMW R 18 Bagger was a hit. Patrons immediately noticed that it was the First Edition model with Black Storm Metallic paint model. Special attention was given to the white pin striping and a chrome design. One lady was brought to tears because she proclaimed how much that it reminded her of their homeland. She immediately had her daughter snap a picture while she posed in front of it. These are the type of reactions that make the car scene the great place that it is. Other enthusiasts took a more detailed look at the bike and noticed the chrome -plated hand a foot levers, handlebar clamps and weights, brake and clutch lever fittings, front engine cover, cylinder head covers, intake runner covers and brake calipers. It was a great day.
This event is full of nice automobiles, good vibes and great food. You do not have to own a nice car to show up. Just come out, commune with other car enthusiasts and have a good time. Enjoy the photo gallery.