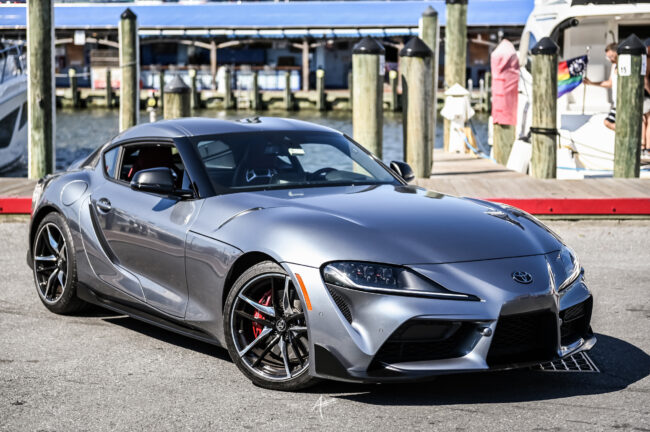 Experienced by Adrian McQueen
Photography by Adrenaline Lifestyles
When I am not hosting my own shows, I patronize the Annapolis Cars and Coffee in Annapolis Maryland down at the Annapolis City Docks.  This event is a fun place to hang out at. Cars, boats, good food and great people fill up the area. Parking is limited but the lot fills up with all types of cars, jeeps, trucks and motorcycles.
This time around, I brought out the 2022 Toyota Supra GR 3.0. The crowd raved that the Supra 3.0 Premium comes with a 3.0-liter inline six-cylinder engine that has a twin-scroll turbocharger with an eight-speed automatic transmission with paddle shifters. The Supra responds to 382 horsepower and 368 pound-feet of torque. This is a rear wheel drive vehicle, complete with launch control. I explained how the throttle response is immediate when you hit the pedal. The exhaust system growls as you put the Supra to work. The handling was balanced, steering and throttle were responsive with very strong. Sport mode sends the Supra to another level as it unleashes the beast under the hood. The most common question was "So when is the manual version coming out?" Hopefully soon was my answer.
Every Sunday, year-round, from 7:30am to Noon, enthusiasts of all makes and models gather to chat and enjoy each other's cars at the Annapolis City Docks. Please enjoy the photo gallery.