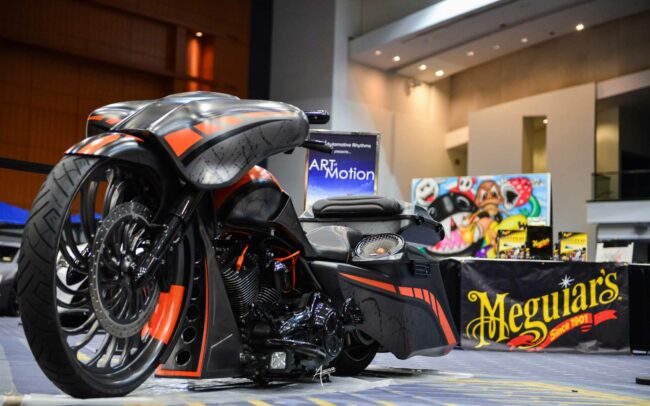 Experienced by Adrian McQueen
Photography by Adrenaline Lifestyles
The 4th Annual ART-of-Motion exhibit set the Washington Auto Show on fire from the main lobby to the 3rd floor of the Walter E. Washington Convention. Curated by trendsetting urban automotive media group Automotive Rhythms (AR), the space consisted of engaging and creative eye candy including motorcycles, slingshots, luxury autos, electric cars, fashion, murals and plenty of music that turned the car show into a family friendly party zone. The emphasis was centered on AR's talented cadre of painters who showcased visual skills live for attendees to witness and enjoy as vinyl wrapped rides were literally transformed into arts of motion.
To kick off the festivities on media day Shawn "SP the Plug" Perkins and Matt Long painted on their respective vehicles while Kimatni D. Rawlins, president and publisher of AR and founder of Fit Fathers, hosted media throughout the day to inform them of the diverse aspects of the exhibit. Fox 5 news host Bob Barnard paid special attention to the Nipsey Hussle tribute canvas from SP the Plug as well as the custom 1966 Chevelle on display.
SMART was blessed by the talents of Juan "CRI" Pineda, a District of Columbia based visual artist with a distinctive style characterized as urban-contemporary street art. This went great with the SMART's modern and compact design as he laid down his Aztec styles and vision. This vehicle is now on display at Euro Motors.
Nationally celebrated Edward Joseph aka "Ed the Artist" is an abstract visualizer specializing in lines that seek influence using shapes, forms, colors and textures as evidenced in his work on our 2019 Mini. The popular Mini is unique in presence so Ed decorated the crossover with animated and vibrant patterns.
Portraitist SP the Plug also brought his methods of theoretical graffiti and accuracy of simulation to ART-of-Motion using a combination of oil and acrylics on the 2019 Toyota RAV4. He paid tribute to Nipsey Hussle with a portrait on the vehicle as well as covering the hood with an iconic scene from the movie "The Lion King". Shawn also let young attendees paint on the Toyota throughout the duration of the exhibit.
Jeff Huntington, aka Jahru, and Julia Gibb blessed the 2019 Hyundai Kona with his famed dragon design. Using acrylic paint, the dragon scales came out very cool while covering the entirety of the vehicle. While Julia assisted with prep and painting the background, Jeff went to work on the many scales that formulated the mystic beast.
Noelle Dumas is a mixed media automotive and vehicular painter and lifelong motorhead. Using the Honda Civic Type R as her muse, Noelle recreated a canvas of the Civic using strips of paper from stacks of magazines. To watch it all come together was amazing and a pure show stopper.
Digital/graphic artist Michael Abrams displayed his Calypso Alfa/Abarth collaborative 3D-printed model car. Also showcased were various concept sketches and artwork that Michael previously created. This was a great addition to ART-of-Motion because he helped patrons envision the level of design details instilled in manufactured vehicles.
Nissan provided the 2019 Altima that was painted with a Cherry Blossom theme by Matt Long who works with acrylic paints and sharpie markers to create fluid forms with bright colors and an engaging sense of movement. The Nissan Altima participated in two major events, Petalpalooza and the National Cherry Blossom Parade, while receiving praise and cheers from thousands of viewers.
Ira "Uncle Wink" Bell and Luther Wright came with focus by painting mural walls throughout the show during interaction with curious connoisseurs. Both Ira and Luther are established artists that specialize in airbrush and acrylics.
Additional attention grabbers that captivated included customs such as the 1966 Chevelle, a high-stepping, highly modified Jeep Wrangler Rubicon, a Vaydor, the Black Panther themed Dodge Challenger, Subaru STI, INFINITI G35, an Audi R8, a Nissan 350Z, a custom Lexus LC 500, a custom Powerhouse Cycles Harley Speedglide and Bagger Boyz Harley-Davidson Roadglide. Bagger Boyz turned the auto show into a concert with their 15,000-watt sound system blaring from the custom Polaris Slingshot. Not one, but two custom Lamborghini Huracáns were on display and have been posted all over social media.
Additional appreciation goes to Throttle Life, Adrenaline Lifestyles, Street Dreamz, Bagger Boyz and 301 Dips for their continued support. Lastly, we want to thank JBL and harman / kardon for keeping the painters laced with the latest Bluetooth over-the-ear and in-ear headphones. Meguiar's stepped up in a major way with giveaways for the show patrons and car owners as well.
AR is already anticipating the 5th Annual ART-of-Motion Exhibit at the Washington Auto Show that will resume its usual timeframe in the winter of 2020. Thank you John O'Donnell and team for the opportunity!