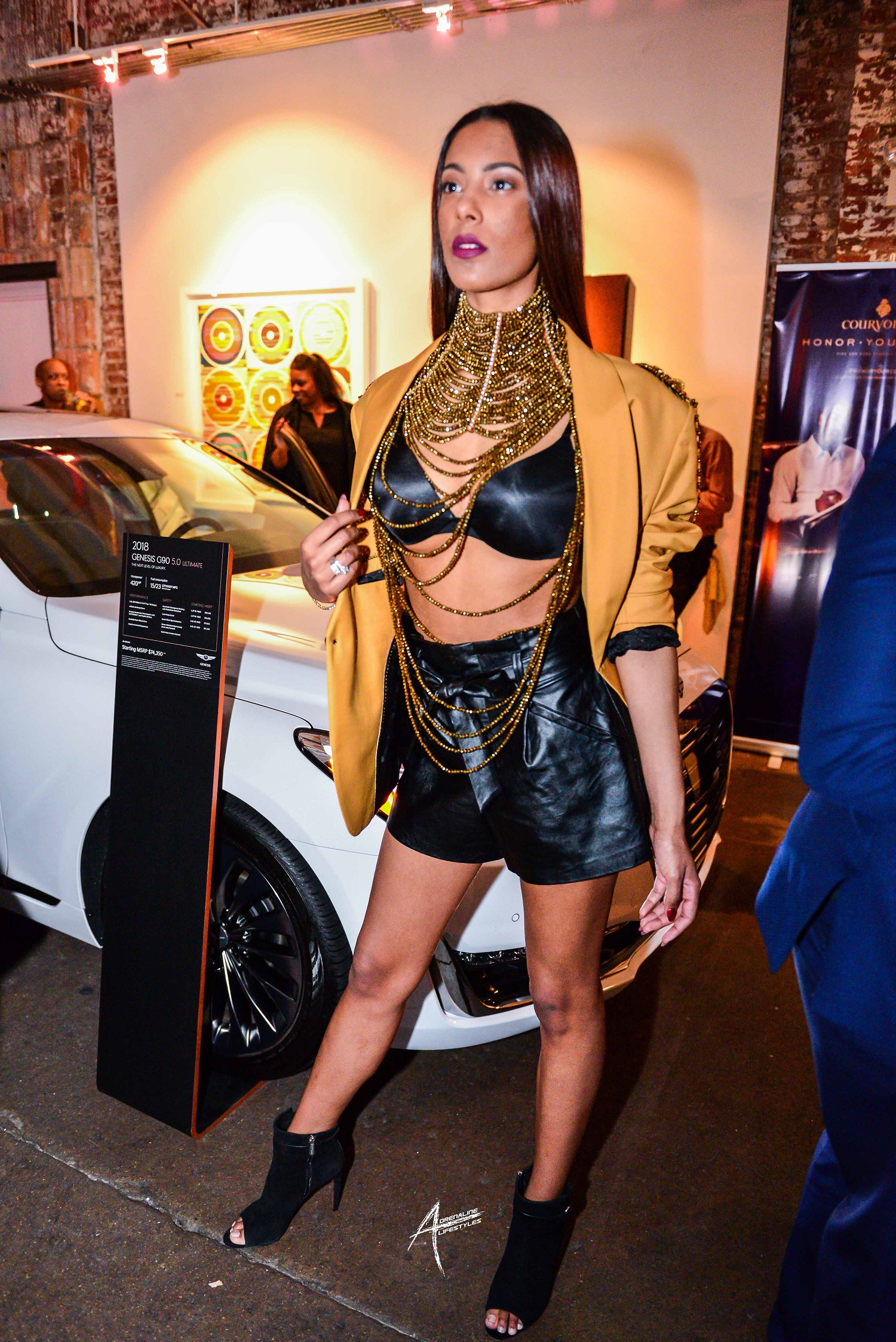 Experienced by Adrian McQueen
Photos by Adrenaline Lifestyles
The Automotive Rhythms' (AR) "Evening of Style" celebration was blessed again to have great weather for the second year in a row. The auto luxury brand Genesis introduced the new 2018 G80 Sport and G90 luxury sedans. The modish function, which introduced Washingtonians to the 2018 Washington Auto Show, was also championed by Genesis, Harman Kardon, WANADA to collectively present and celebrate AR's 17th annual auto show affair at the swank Long View Gallery in the nation's capital.
AR events are routinely attended by national celebrities, local politicians, tastemakers and socialites with this year being no different. Special guest hosts included WPGC Sunni in the City, WPGC and Fox 5's Guy Lambert. In addition "Evening of Style" was attended by Superbowl Champion Kyle Arrington formerly of the Baltimore Ravens, John O'Donnell, Executive VP of the Washington Area New Automobile Dealers Association, Walter Dawson, Sr. Manager Regional Operations at Genesis Motor America, SiriusXM Radio's Michel Wright. Visual artist Shawn Perkins painted a Genesis Concept along with visual artist Jamaal Lamaaj painting Effen bottles and then painting an elegant relaxing scene to canvas.
Well over 600 guests paid homage to AR's 2018 Washington Auto Show party with a glamorizing fashion element commissioned by internationally known designer Kenneth "KAS" Flanagan who specializes in men's and women's wear at his unique, upscale boutique, STILE, at the National Harbor. The enchanting collection presents timeless, sexy, athletic and sophisticated clothing. Models wore athletic and elegant looks that were paired against the sporty G80 and their more elegant G90.
Attendees grooved to live performance by We the Fix. The live band really sent the crowd over the top, being that every native Washingtonian loves GoGo music, so "We The Fix" really gave it that hometown feel. Guests were also entertained by the soulful tunes of DJ Blinks, through the Harmon Kardon professional entertainment system. Gratis cuisine was provided by Spilled Milk Catering, Courvoisier signature spirits and Heineken beer happily liquefied the festive moods of our guests. The first 250 guests received a ticket to the Washington Auto Show. Prizes from Harman Kardon, Michelin, Yokohama, and BFGoodrich were raffled off.
Please enjoy the photo gallery and make sure to follow Washington Auto Show happenings including AR's third annual ART-of-Motion exhibit in Ballroom B on the 3rd level of the Washington Convention Center. Show activities can be followed on all social media platforms including Twitter, Instagram and Facebook under #AutomotiveRhythms @AutomotiveRhythms @WashAutoShow and #WAS18