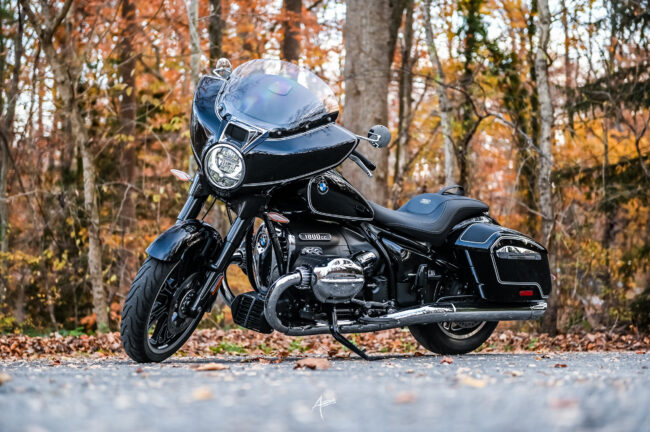 Experienced by Adrian McQueen
Photography by Adrenaline Lifestyles
I have been an avid motorcyclist for over 20 years, having driven sport bikes, Harleys, café racers and more. I considered it a treat to be able to test out BMW's all new R 18 Bagger. Even though the weather was not quite warm during my review period, it was good enough to get out and enjoy all this Beemer had to offer.
BMW Motorrad is the motorcycle brand of BMW that has produced motorcycles since 1923. The first motorcycle was the R32, which featured a flat-twin boxer engine. BMW Motorrad still uses the flat-twin boxer configuration, but now manufactures motorcycles with a variety of engine configurations. BMW Motorrad's motorcycle production takes place at its plant in Berlin, Germany.
Upon first look, you notice the R 18's unique bagger design. The First Edition model with Black Storm Metallic paint model that we reviewed came with white pin striping and a chrome design. This option comes complete with chrome -plated hand a foot levers, handlebar clamps and weights, brake and clutch lever fittings, front engine cover, cylinder head covers, intake runner covers and brake calipers
The 2022 BMW R 18 bagger has a teardrop-shaped 6.3 gallon tank and a stretched seat that extends to the rear end with integrated side cases and tail lights. There is high-grade stitching on the seat and "First Edition" lettering on both cases. It is a nice bagger that highlights the boxer unit. The chromed out engine is a pure eye catcher.
The tech on this motorcycle is amazing. Download the BMW Motorrad app to get the most out of the navigation system and full TFT features. A fan-cooled compartment is on the bike that will fit most phones. There is a 10.2" TFT display mounted to the fairing along with hand dials. It takes some getting familiar with but you have to navigate through the options with the scroll wheel & up – down button. The Marshall speakers come with studio like audio quality. The Stage 1 Marshall audio package adds subwoofers to the bags. These top-notch speakers are perfect for cruising down the road alongside the blaring boxer engine. The subwoofers take up some of the space in the bags so if you are going on any long trips, you will have to sacrifice some.
1802 cc is no shortage of power for this beast of a motorcycle. Start up the engine and you can hear it and feel it. It puts out 91bhp at 4750 rpm and 158 Nm (116 ft-lb) of torque at 3000 rpm with overhead valve train, side control valves and pushrods within. Stopping power is provided by twin 300mm Brembo discs up front with a single rear 300mm disc. You can toggle between three rider modes – Rock, Roll & Rain. I pretty much stayed in "Rock" mode to get the full boxer experience. The throttle response is instant and I shifted through gears effortlessly. Riding in "Roll" mode will provide less engine braking and less engine pickup, while riding in "Rain" dulls it down to a very subtle ride.
The R 18 B First Edition model that we tested includes Adaptive Cruise Control, Hill Start assist, SOS button, Automatic Stability Control (ASC), dynamic engine brake control (MSR). Available Reverse Assist add even more convenience. The reverse gear is essential for otherwise challenging low-speed actions. It is really driving backwards so a light tap on the button is just fine. The traditional headlight shape features cutting-edge LED lighting technology. Our model included the adaptive headlight to help completely illuminate the road.
It is a comfortable ride. My arms were in a good riding position as well as my feet. The suspension will automatically adjust the spring preload, making the headlight always level. The full fairing could pose an issue for shorter riders that might feel their line of sight is obstructed. For the cooler rides, the R 18 B has heated grips and a heated seat that will make touring enjoyable in the Fall. Passengers really do not have much to hold onto because of the sloping design of the tail section.
The BMW R 18 sits in a competitive class going up against the Harley-Davidson Street Glide Special, Harley Davidson Road Glide and the Indian Chieftain Dark Horse. BMW has released 4 motorcycles in the family. The models are the R18, Classic, B, and the Transcontinental. BMW offers a 3-years or 36,000 miles warranty on all new motorcycles. The 2022 BMW R 18 B model that we tested comes in at $28,815. The R 18 B offers everything you would expect from the bagger world. There are many traditional elements as well as a boatload of modern motorcycling technology.
Overall, I felt that the 2022 BMW R 18 B is a lot of fun.  Toss it into "Rock" mode, turn the Marshall speakers up to blast your favorite tunes and ride out. From open roads, to tight and curvy, this German-built machines felt good. Please enjoy the photo gallery.