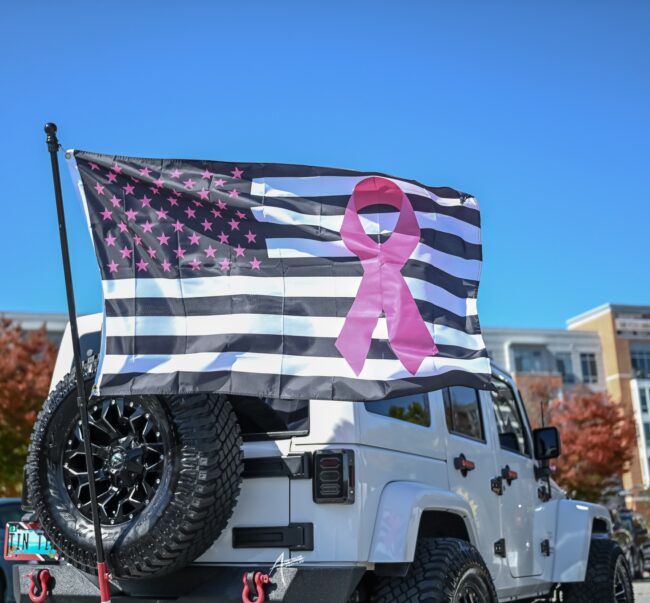 Experienced by Adrian McQueen
Photography by Adrenaline Lifestyles
October is National Breast Cancer Awareness Month with the aim to increase the early detection of the disease by encouraging women to have mammograms. This brings about the time for the Black Jeepers of the DMV to have their third annual convoy for the cure breast cancer charity event. I have witnessed the growth of this event from inception so I was excited to be a part of this great cause.
Searching for a place to have this event was a quick find. Once I mentioned it to my good friend Ian Reid, Co-Owner at Po Boy Jim Bar and Grill, he immediately requested that the event be held at his establishment. As this is a fundraiser, Ian agreed that a portion of the proceeds raised at Po boy Jim would be directed towards the charity. Po Boy Jim Bar and Grill is a restaurant located in Columbia Maryland. There was great food, family and fun brought to you by the Black Jeepers of the DMV.
To clarify, although the Facebook group is called 'Black Jeepers of the DMV', the page specifically states the group does not discriminate: "This group serves the community of local Black Jeepers in D.C., MD and VA. The purpose of this group is to connect like-minded Jeepers of color and give us a safe space to find local meet ups, trailing excursions and discussions on mods. Our goal is to help each other and participate in Jeeping Events! Although the group is called 'Black Jeepers of the DMV', we will not show prejudice or hate towards non-melanated members." Members of this group are a mixing bowl of cultures.
This is year the charity chosen was the Thelma D. Jones Breast Cancer Fund. The Thelma D. Jones Breast Cancer Fund (TDJBCF) is a unique nonprofit grassroots organization whose mission is to advocate and improve the overall health and wellness for women and men through outreach, education, and prevention. The TDJBCF promotes early detection strategies for breast health and access to the best biomedical and evidence-based complementary therapies to reduce the incidences and mortality rates of breast cancer. More information can be found at https://tdjbreastcancerfund.org/ .
After the brunch portion of the event, over 50+ jeeps convoyed out and rode on the highways to support breast cancer awareness. It was a sight to see all of the Jeeps riding together in unison, with the Breast Cancer awareness flags waving in the air.
A huge thank you has to go out to the wonderful people at Stellantis for providing model Jeeps as giveaways. It was a great gift and doubled as a fitting way to spruce up the décor as centerpieces to the dining room tables.  Meguiar's also stepped up and provided car care products and gift bags for guests of the event. I am looking forward to seeing the event grow bigger and better in 2023. Please enjoy the photo gallery.