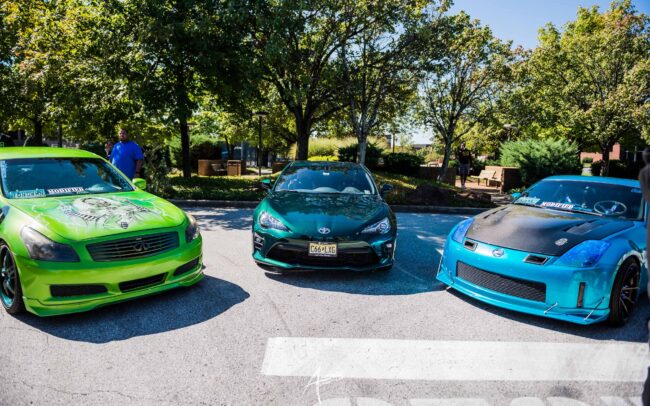 Experienced by Adrian McQueen
Photography by Adrenaline Lifestyles
The Fall air was crisp but the sun was shining bright for this edition of Cars and Brunch. We returned and kept the good vibes going. As the day went on, the lot filled up with all types of cars and motorcycles.  Good music filled the air while the patio was full of patrons eating and having a good time. Mobile orders even were a hit from those who did not want to leave the parking lot.
As usual, we had everything from Classic Cars, Exotics, Tuners, American Muscle, Luxury and Motorcycles. There was a popup flash photo shoot for indie fashion week, as well as some vendors that set up a market to sell popular goods to the patrons.  Today was a bit special because we actually something of a reveal for the patrons. This week was our review period for the 2020 Toyota 86 Hakone edition, so we decided to showcase it and get some fan feedback. Onlookers fawned about the sporty exterior, rich green exterior paint, black rear spoiler and bronze 17-inch wheels.
Discussion about the Toyota 86 circled around the evolution of the vehicle. The Subaru BRZ, the Scion FR-S or now the Toyota 86 sums up the lifecycle of this 2+2 fastback coupé.  When you pop the hood you see why it is noted for its naturally-aspirated boxer engine. Under the hood is a 2.0-liter engine and six-speed manual transmission that  produces 205 horsepower and 156 pound-feet  of torque with the manual. The 86 is perfect for rally and drift racing. Many asked how it compared to the Supra and why Toyota continues to sell both.  For starters there is a significant price difference between the two vehicles and the Supra is more powerful and luxurious. There is indeed a market for both vehicles. This was definitely and adrenaline approved ride to wow the crowd at Cars and Brunch.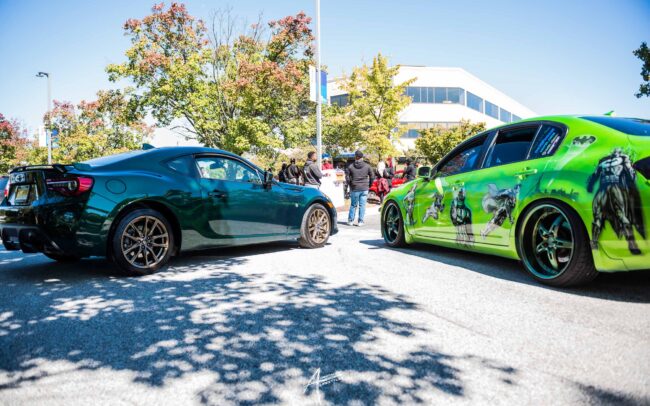 Cars and Brunch takes place at KitchenCray Café, 4601 Presidents Dr, Lanham, MD 20706 . This event is full of nice automobiles, good vibes and even better food. You do not have to own a nice car to show up. Just come out, commune with other car enthusiasts, partake in some phenomenal food and have a good time. Please practice social distancing and wear your masks. Carryout meals can be ordered via Kitchencray.com or (301) 577-1425.