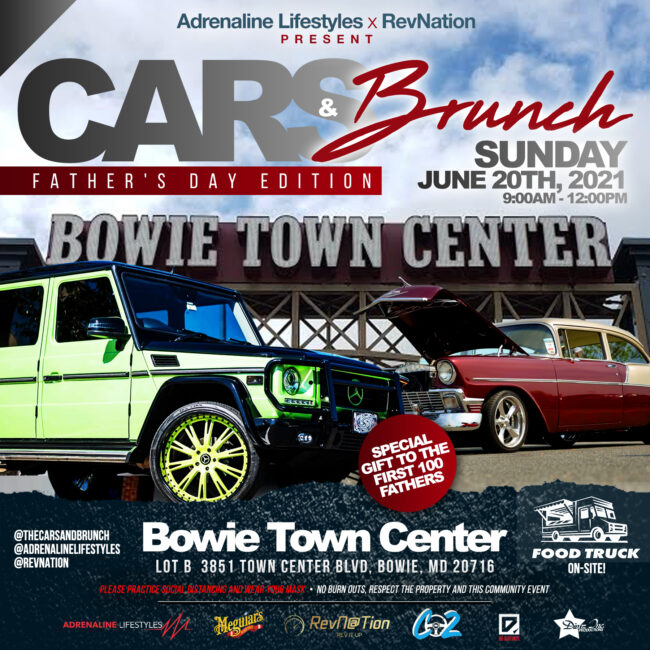 Automotive related events have always been a big part of my life, for as long as I can remember. Track Days, Car Meets, Car shows and Cruise ins are staple events in the automotive community. Each bring the opportunity for car enthusiasts to come together to show their passion for all things automotive by sharing their stories and showing off their rides.
What started out as a few friends gathering for some outside dining and social distancing with our rides, has turned into the local car enthusiasts go to retreat during this pandemic. Each time this event circles around, it has grown in numbers as well as the variety of vehicles that are put on display. Classic Cars, Exotics, Tuners, American Muscle, Luxury, Motorcycles, Slingshots and vehicles direct from the OEM, that even the local dealerships do not stock yet, have made their way to Cars and Brunch
This special Father's Day Edition of Cars and Brunch will take place Sunday June 20th, 2021 from 9:00 am – 12:00 pm at Bowie Town Center located at Lot B 3851 Town Center Blvd, Bowie, MD 20716.  This event is full of nice automobiles, good vibes and great food. The First 100 Fathers will receive a special gift from Meguiars !! Come out, commune with other car enthusiasts, partake in some phenomenal food and have a good time. Please practice social distancing and wear your mask. No Burn Outs, Respect the Property and this Community Event.