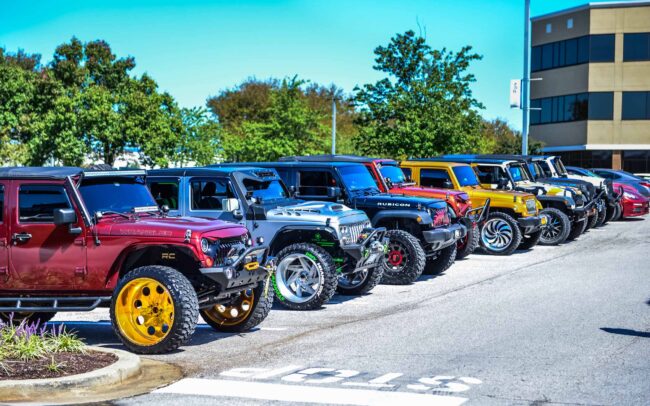 Experienced by Adrian McQueen
Photography by Adrenaline Lifestyles
The Fall weather hit a bit early this year but the sun was shining and engines were roaring. Well we returned and kept the good vibes going. The DMV Wranglerz were the first to show up on the lot displaying well over 10 custom jeeps that set the tone for how the day was going to be. As the day went on, the lot filled up with all types of cars and motorcycles.  Good music filled the air while the patio was full of patrons eating and having a good time. Mobile orders even were a hit from those who did not want to leave the parking lot.
Todd Johnson aka "TJ the Millionaire" even dropped in for his birthday to show off his Aston Martin Vanquish S, Ferrari 812 Superfast, Ferrari Portofino and Custom BMW M2. This was a pleasant surprise as he had just been in LA the day prior. Patrons stopped him for pictures and autographs while asking him numerous questions.
Thanks to Meguiar's for being the official car care sponsor of the event. Some patrons that arrived early were able to take advantage of the products and get a quick detail job in so their ride could be clean while on display.
Cars and Brunch will take place at KitchenCray Café, 4601 Presidents Dr, Lanham, MD 20706 . This event is full of nice automobiles, good vibes and even better food. You do not have to own a nice car to show up. Just come out, commune with other car enthusiasts, partake in some phenomenal food and have a good time.