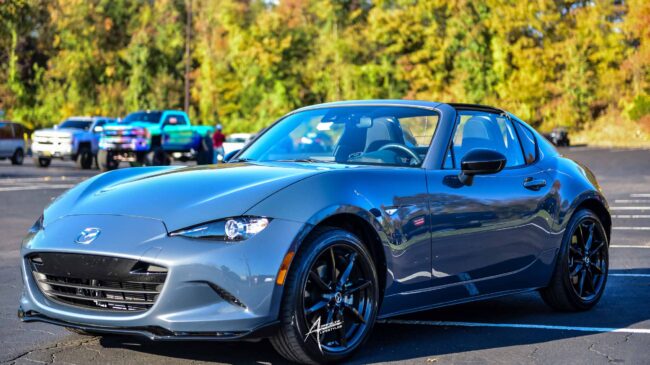 Experienced by Adrian McQueen
Photography by Adrenaline Lifestyles
Fall has officially set in but another sunny Saturday morning set the scene for this edition of Cars and Brunch. We returned and kept the good vibes going. As the day went on, the lot filled up with all types of cars, jeeps, trucks and motorcycles. This time we around we were welcomed by the team at Advance Auto Parts in Upper Marlboro MD with food provided by DMV and Beyond.
As usual, we had everything from Classic Cars, Exotics, Tuners, American Muscle, Luxury and Motorcycles. There was a popup flash photo shoot for indie fashion week, as well as some vendors that set up a market to sell popular goods to the patrons. Today was a bit special because we had the 2020 Mazda MX-5 RF to showcase.
The Mazda MX-5 is sleek and sporty in design. The RF version that we received added a sharp targa-style look to the sports car's design. This sporty roadster is surely a head turner with the 17 inch alloy wheels, dual exhaust w/bright outlets and the LED headlights and tail lights. This was definitely and adrenaline approved ride to wow the crowd at Cars and Brunch.
This event is full of nice automobiles, good vibes and even better food. You do not have to own a nice car to show up. Just come out, commune with other car enthusiasts, partake in some phenomenal food and have a good time. Please practice social distancing and wear your masks.