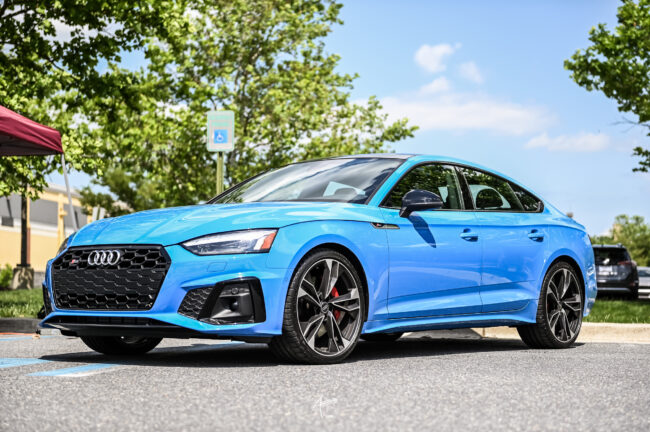 Experienced by Adrian McQueen
Photography by Adrenaline Lifestyles
Cars and Brunch is in full swing and the lot continues to pack out with everything from Classic Cars, Exotics, Tuners, American Muscle, Luxury and Motorcycles. Family friendly music for all to enjoy filled the air as they walked the lot full with many rows of vehicles. Meguiar's also supplied us with giveaways for the patrons.
At this event I showcased the 2022 Audi S5 Sportback with the Prestige package. The model that we reviewed came in a Turbo Blue hue. "Cars and Brunch", patrons commented about how much they liked the Sportback look and eye catching color. Upon first look you will notice the prominent grille, front and rear bumpers, HD Matrix LED Headlights, OLED Taillights and the menacing dual exhaust look.  I really enjoyed the design of the S5, as it is aggressive but luxurious at the same time. It sits on 20" bi-color finish, 5-twin-spoke- design wheels, with red brake calipers that are part of the Prestige package. The 3.0 TFSI, 349-hp turbocharged V-6 engine kept many Audi fans engaged in talks of powerful this Sportback truly is.
Cars and Brunch will take place every 1st and 3rd Sunday from 11:00 am – 2:00 pm at Bowie Town Center located at Lot B 3851 Town Center Blvd, Bowie, MD 20716. This event is full of nice automobiles, good vibes and great food. You do not have to own a nice car to show up. Just come out, commune with other car enthusiasts, partake in some phenomenal food and have a good time. Please enjoy the photo gallery.