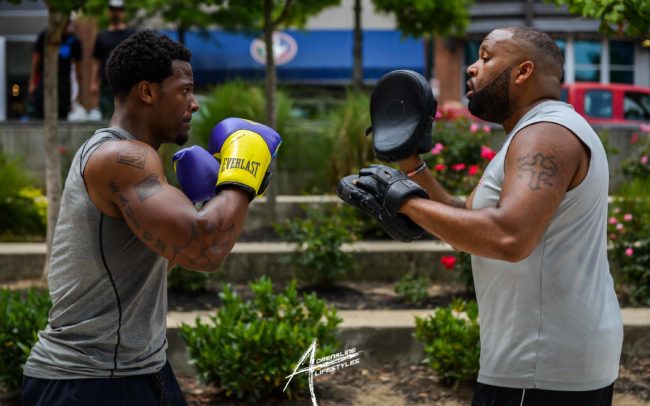 Words by Adrian McQueen & Kimatni Rawlins
Photos by Adrenaline Lifestyles
Fatherhood was achieved on Father's Day and will follow suit each day henceforth with a continuous movement where Fit Fathers commune for the benefit of their kids. We share and learn from one another to enhance positive experiences for our families, friends and communities. For the 4th Annual "Fit Fathers Day" Celebration (FFD) life enhancement manifested once again in the form of festive and healthful activities.
Naturally, Father's Day in the Maryland, DC and Virginia area was ignited the "Fit Fathers" way for the 4th year in a row with exercise, laughter, dance, music and fun. We bring dads and father figures together annually to demonstrate the importance of being health conscious and leading by example through positive, nutritional choices. Hype for the event was built from engaging social media campaigns and coverage from Fox 5 DC, News Channel 8, WUSA 9, CBS Radio, Radio One, SiriusXM, Black Enterprise and a host of other elite media outlets. Additionally, with $2,500 in prizes at stake for our fitness challenges, over 500 attendees came to the celebration ready for action which resulted in an eventful day.
The Fit Fathers Foundation believes health, fitness and nutrition can help fathers live longer and challenges dads to eat clean, stay active and continuously energize their lives! Held at Veterans Plaza in Downtown Silver Spring, MD, fun-for-all group exercises with trainers Michelangelo Bance, Tiffani Jenkins, Styves Exantus and the Ravens' Kyle Arrington motivated the crowd. New and enjoyable for this year was the Zumba experience by Z Sweat Dance and Fitness as well as Ray & Roze Zumba. Yoga was also led by 5 Sense Wellness to the melody of PanLara's steel drums. The kids highly adored the interactive playground while guests were treated to DJ Blinks who kept everything grooving as he spun hit tunes on the 1s and 2s.
Participants enjoyed fitness games, healthy snacks and water from Whole Foods, Kind Snacks Zico, Body Armor, screenings and health information from AAHP and giveaways from Thule, Yokohama, Nike, Bose, Road Runner Sports, Soul Cycle, Live Nation, Modell's, Strider Bikes, Wearsafe, Vibram and Mothers Car Care. The Fit Mom plank contest lasted 18 minutes while the Gym Source winner for Mr. Fit Father walked away with a set of Yokohama tires.
We honored our 500 plus attendees for supporting the cause with a magnetic workout, prizes, giveaways and life-enhancing materials. Guests left the event already asking about the 5th Annual "Fit Fathers Day" Celebration in 2018. We greatly appreciate our sponsors and partners who initially recognized the vision and helped bring FFD to fruition. As well, a very special thank you is in order for all patrons and volunteers who attended and participated.
FFD is possible due to the amazing contributions from our partners and sponsors such as Thule, Mazda, Volkswagen, Physicians Committee for Responsible Medicine, Whole Foods Market, Nike, Bose, DC Capital Striders, Nissan, The Washington Auto Show, Road Runner Sports, Strider Bikes, Kind Snacks, Soul Cycle, Yokohama Tires and Meatless Monday. The success of Fit Fathers Day sits with supporters of the movement so recognition must go out to the community partners including Modell's Sporting Goods, Gym Source, Body Armor, Greenbelt S.I.T.Y. Stars, Men's Health Network, Z Sweat Dance and Fitness, The WellnessPlex, Ray & Roze Zumba, 5 Sense Wellness, WAPA, Kaiser Permanente, Powerful Beyond Measure, PanLara, Zico, Daddy's Cool, Hip Hop Fathers, African American Health Program, Live Nation, Mocha Moms, Montgomery County, Maryland Department of Police, Higher Level Basketball, Vibram, SWEAT DC, 1 Up Handles, The Streetwize Foundation, Downtown Silver Spring, Visit Montgomery County, Road Crew Clusters, Make Smart Cool, Great Kids Events, Mothers Car Care, Healthy Life and Soul, LLC and The Department of Environmental Protection.
In addition, much love and respect is directed to our auto sponsors for assisting in making this event a success. It was only right that Fit Fathers Day included some Automotive Rhythms flavor in the form of an active lifestyle vehicle showcase including a Deep Blue Pearl 2017 Nissan Titan Platinum Reserve edition, Mazda CX-5, 2018 VW Atlas Limited and Toyota Tacoma.
Last year's FFD was unique as we helped elevate awareness for 13-year old Journey Butler and other families battling pediatric cancer. Journey participated in the previous Fit Fathers Day events with her Double Dutch Team aka Greenbelt S.I.T.Y. Stars. Sadly, Journey passed away and in memoriam Journey's family started #JourneyToHappiness to assist and encourage people against the lethal opposition of sickle cell trait. The nonprofit Journey to Happiness Movement was founded in order to advocate for sickle cell trait (SCT) carriers and to make the sickle cell community aware of the urgent health concerns associated with being a carrier. SCT is directly associated with Renal Medullary Carcinoma, the cancer that Journey succumbed to. National Ambassadors Jason McCourty and Devin McCourty of the Super Bowl Champion New England Patriots also focus their attentions on sickle cell disease. "We have seen first hand the devastating effects of sickle cell on family members and we are choosing to use our platform to help families in similar situations," said Jason. "This is something very personal to us and we're thrilled to continue working with Embrace Kids Foundation," added Devin. The Fit Fathers positive message is spreading among the lives of many.
FFD was also hosted by national ambassador Kyle Arrington who is a cornerback for the Baltimore Ravens and has earned a Super Bowl ring with the New England Patriots in Super Bowl XLIX. He is married and has two sons named Kyle Jr. and Kaden. Off the field he's a family guy who dedicates success to his wife and kids including the addition of a new baby boy.
Fit Fathers spearheaded movements in numerous cities last year outside of the DMV by partnering with health leaders to produce the Father's Day celebration. This year was no different as events also took place in Atlanta, Cincinnati and Philadelphia.
Although Fit Fathers Day is a special occasion to recognize dads during their time of celebration, our mission also encourages moms, kids and families throughout the year. Stay tuned for more Fit Fathers events as we move forward engaging with various communities around the country. Enjoy the photo gallery.