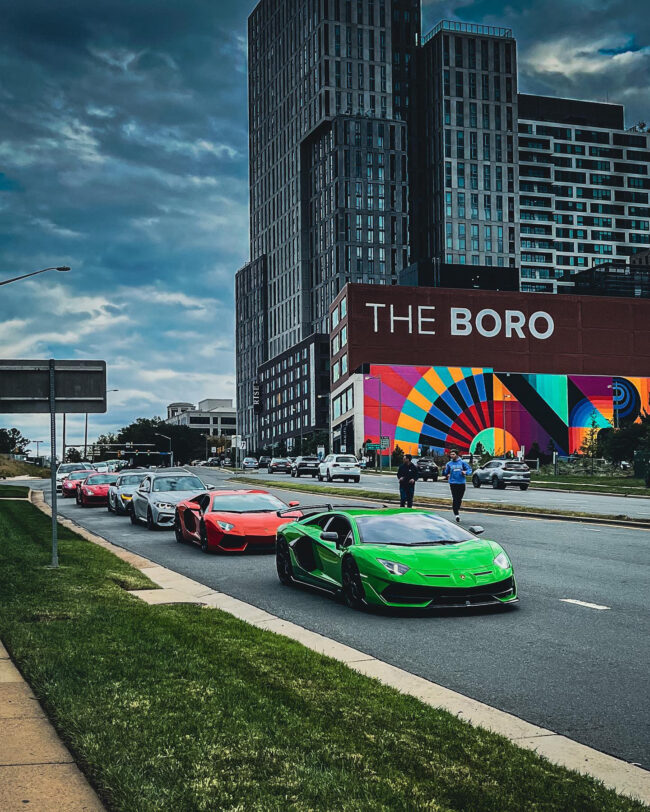 Experienced by Adrian McQueen
Photography by Adrenaline Lifestyles, ChasinKarz and Tysons Exotics
On a Fall Saturday morning, car enthusiasts from throughout the Washington DC region stepped out for a memorable day with the Bull Squad and Friends, as we Cruised for a Cause. The morning started out a Sandlot Tysons, located at the Boro in Tysons Corner VA. The large mural created by artists Jessie and Katey . The mural is more than 4oo feet long and 70 feet tall, making it one of the largest pieces of public art in the D.C. area. Upon arrival, many proceeded to take pictures of their vehicles, using the mural wall as the backdrop. We met for check in and a sit down brunch at the luxurious North Italia restaurant. After brunch we gathered back at the Sandlot where myself and Zach aka Tall Guy Auto, greeted the crowd and delivered the itinerary for the day.
We all set out from Tysons Corner, VA to the Capital Auto Club Car Show at Cult Classic Brewery in Kent Island, MD. Even though we ran into a little bit of traffic due to a stadium event, the cruise was exciting and engaging. Fun was had by all as we shared jokes and stories at the end location. Most importantly, we raised funds and awareness for Project Giveback in their mission in feeding over 4,000 families in the Washington DC Region over the Thanksgiving holiday.
The 2021 Audi SQ5 Sportback served as the Pace car for the event. The SQ5 comes with a 3.0 TFSI, 349-hp turbocharged V-6 engine. This engine makes very good power and can get up to speed fast. The standard Quattro all-wheel drive ensures that all the power is applied to the road. The eight-speed automatic transmission shifts rather smoothly. Leading up the "Cruise for a Cause" charity ride, we put it to the test while being amongst Lamborghini's, Ferrari's, McLaren's, Porche's and more than enough M and AMG power to fill a German stable. The Audi SQ5 handles well and feels nimble when carving up the corners. Throughout the day the SQ5 was often referred to as the "Baby Urus."
The Cruise for a Cause would not be possible without the support of our partners and sponsors. Thank you to Tall Guy Auto, Amiro Productions, YA Images , Capital Auto Club, Chasin Karz , Logan Visuals, Deckard Photos, DMV Dailys and Meguiar's for supporting our event this year! Please enjoy the photo gallery.