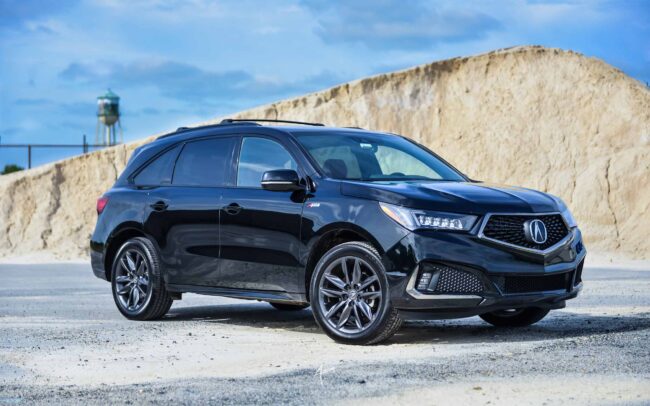 Experienced by Adrian McQueen
Photography by Adrenaline Lifestyles
The Acura MDX, is a mid-size three-row luxury crossover that stands for "Multi-Dimensional luxury". It has ranked as the second-best selling luxury crossover. The MDX was the first crossover SUV to have third-row seating, and shares a platform with the Honda Pilot. The MDX was introduced in 2001 and has been considered one of the sportiest luxury crossovers to date. I was excited to be able to get some seat time with it.
The Acura MDX is a luxury/sporty/family SUV wrapped all into one ride. Let's start off with the look. The A-SPEC exclusive styling package came with 20" alloy wheels, 265/45 20-inch all-season tires, LED fog lights and Jewel Eye LED headlights. The MDX is spacious in size but still stylish with sloping hood and fierce grille. This is a luxury model from a premium brand, so it is an attention grabber and soon as it turns onto the block.
The interior of the MDX did not disappoint me at all. The A-SPEC exclusive styling package brings in red leather sport seats with Alcantara black inserts with contrast stitching. Sport pedals are also included in this package as well. The MDX has new interior wood options along with driver and front passenger seats that now power adjust in 12 different positions. The MDX offers a decent amount of legroom for all passengers. I liked the fact that the second-row passengers can slide back the bench seat some and recline. The leaves the third row only comfortable for small children. I still have very young children, so car seats in all my rides. When installing the car seats in vehicles with the bench seats, I have to move the front seats up a lot further than what is desired. Captain second row chairs typically solve this problem because they sit further back.
When discussing the interior, I have to talk about the infotainment system. Acura pushes innovation and equips the MDX with a touchscreen On-Demand Multi-Use display and a bundle of USB ports scattered throughout the vehicle. You can select between navigation, smartphone, SiriusXM, Apple CarPlay and Android Auto, Bluetooth, HD radio and a 10 speaker Acura ELS studio premium sound system are available. It is not the best infotainment system that I have worked with but not one to warrant a lot of complaints either.
Now let's get to the actual drive. The MDX is pushed by 290hp from a 3.5-liter VTEC V6 engine with 267 pound-feet of torque. I am not saying that it moves like the NSX but you definitely tell that they are in the same family. There is a 9-speed transmission and active dampers for the Advance Package. The Integrated Dynamics System controls the throttle response of the MDX between Comfort, Normal and Sport. Kick it in Sport if you want to get close to that NSX feel. The shift selector buttons are supercar-inspired. It does take some getting used to but  it feels natural once you adjust to it.
The MDX moves pretty quick for an SUV. It can handle sharp curves and twisty roads with control. Ultimately, the MDX is a pleasure to drive. Steering is calm and steady. You do not feel like you are fighting with the steering wheel to keep position. The MDX has EPA fuel-economy ratings that rank on par with other crossovers in its' class. The MDX delivers 19 mpg in the city, 25 mpg on the highway and 21 mpg combined.
Safety is important to Acura as the MDX is equipped with blind-spot monitoring, rear cross-traffic alert, front and rear parking sensors, standard lane-departure warning and lane-keeping assist, standard automated emergency braking, standard adaptive cruise control, drivers and passenger side airbags, vehicle stability assist, anti-lock brakes and a tire monitoring pressure system.
Acura's new-car warranty falls in line with what other luxury brands are offering. Some brands offer complimentary scheduled maintenance but that has not become the norm yet so Acura will get a pass for now. The MDX comes with a limited warranty covers 4 years or 50,000 miles and a powertrain warranty covers 6 years or 70,000 miles.
The Acura MDX sits in a competitive class amongst the Porsche Cayenne GTS, Audi RS Q8, Audi Q7, Volvo XC90, BMW X5, BMW X6 and the Lexus RX. The model that we tested came in at $55,895.00, complete with the A-SPEC package and the Tech package. The 2021 Acura MDX will mark an all-new fourth-generation edition, but until that is revealed, this 2020 version will do just fine. Please enjoy the photo gallery.