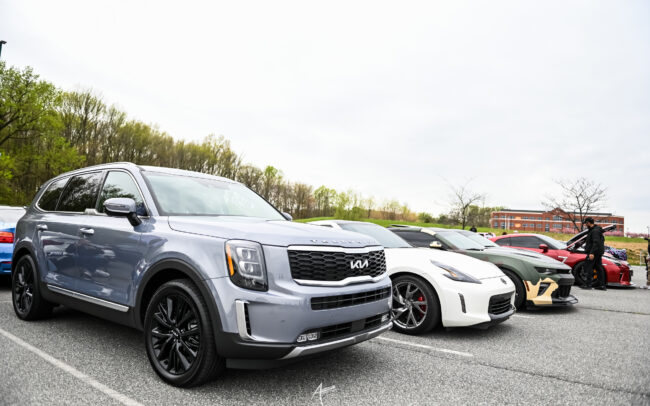 Experienced by Adrian McQueen
Photos by Adrenaline Lifestyles
Over 1000 cars, trucks and motorcycles showed out for a show like no other. Chuck Mahla and the team pulled off the Sixth annual Miracle Makers of Maryland Car Show, formerly known as the Children's Miracle Network Car Show, still benefiting the Johns Hopkins Children's Hospital of the Children's Miracle Network (CMN). The Miracle Makes of Maryland (MMM) is an organization dedicated to raise funds and awareness for 170 children's hospitals throughout North America. All of the funds donated to the CMN car show help local kids at Hopkins Children's.
The parking lot of Ripken Stadium in Aberdeen Maryland was set on fire with all the great automobiles that were on site. This was a nice venue for the show due to the space, accessibility and layout. On site were exotics, race cars, classic customs, imports, motorcycles, lifted trucks, army vehicles and even a boat. DJ's and live bands kept the crowd entertained as great tunes were spun throughout the afternoon.
This year I was able to pull up in the 2022 Kia Telluride. Show goers quickly mentioned that even though it is a SUV, itis still sporty with the grille, headlights and fog lights. The everlasting silver paint gleams bright, while the orange LED lighting around the headlights truly stands out. The telluride sits on 20" Black finished alloy wheels with satin finish on the exterior trim pieces. The dual sunroofs are a great touch as well. On the hood and tailgate, "TELLURIDE" is prominently marked and nearly extends the width of the vehicle. I would classify the Telluride's styling as bold, which is rare in its class. I was in good company at the show as I ran across a group of Kia Stingers.
The event had amazing food and helped the shows progress the whole way. This event would not have possible if it weren't for each and every sponsor and vendor that contributed to the event. This year the event raised $56,500 for The John Hopkins Children's Centerwhich exceeded all expectations. This is a testament as to how many people believe in this show.
Five years ago, MMM began raising money for the kids at Johns Hopkins through a car show hosted through Rite Aid Pharmacy. MMM has a passion for helping others in the community and being able to give back. The goal of MMM is to continue to support other local non-profits in their community and expand fundraising efforts.   Please enjoy my photo gallery and plan to attend in the next show in 2023.