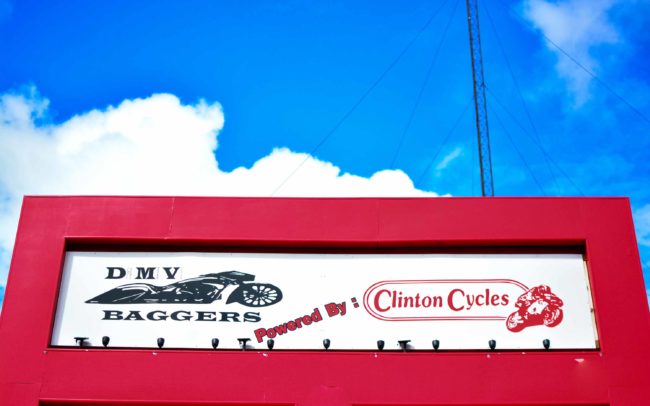 Experienced by Adrian McQueen
Photography by Adrenaline Lifestyles
Clinton Cycles in Clinton, MD has been well known as an acclaimed motorcycle shop in the Washington DC area for many years. Long-time DMV motorcycle figure, Mr. Francis Holder, re-opened the shop with several changes geared to offering the community custom bikes, custom clothing, parts and service, how-to workshops combined with bike nights and more. Never before have all of these components been pulled together within one shop in the Washington DC area.
Clinton Cycles is a used motorcycle retailer, offering everything from baggers, cruisers, sportbikes, ATVs and more. The service department will still deliver stellar service, with rapid turnaround time and fair pricing with a commitment to providing excellent service. To help empower the every-day to advance rider, service and maintenance courses are offered as one of the companies community outreach efforts. The first course teaches motorcycle assembly, diagnostics and tuning. The second course offers advance tuning, advance dyno and advance mapping.
Complete customizing via the new sole-ownership of DMV Baggers includes both performance and cosmetic work as well as an in-house paint facility. Other service offerings include full wash and detail, consignment and tags and title processing. DMV Baggers side of the business offers everything from customization, paint, fabrication, dyno tuning and powder coating as well as specializing in stereo system upgrades value. Want a sample of ground shaking systems? Just ask to take a listen to some of the models on the showroom to hear first-hand the competition quality provided.
Adding an alluring feminine touch for the lady rides is The Cat Cave, owned and operated by Kimberly Crockett offering apparel and accessories for the ladies as well as gear and products for the fellas. This Biker Boutique also serves as a customer chill -out lounge.
Looking for a bike night with that chilled-relaxed vibe? Look no further than their Thursday Bike night which also provides an opportunity for vendors to join and directly connect with the community. Food, music, motorcycles and safe environment always makes for a fun evening. It looks like Clinton Cycles, DMV Baggers and the Cat Cave has a bright future with clearly offering more than just bikes and to once again become a mainstay for the community.