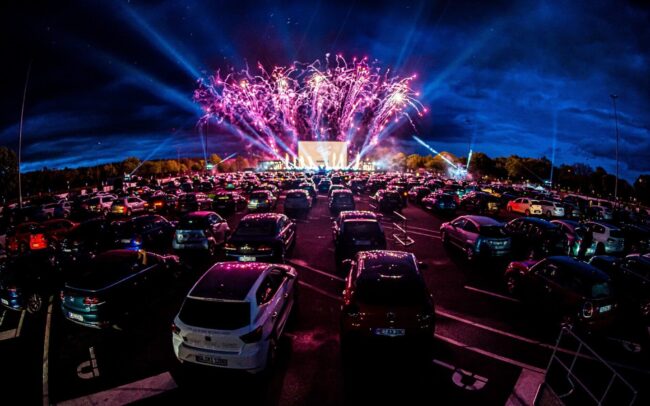 Experienced by Adrian McQueen
The indoor movie theater industry always had its ups and downs, but since the pandemic, the entire industry has been hit with a major blow. The coronavirus emptied movie theaters but it's resurrecting the drive-in. There's no telling when people will feel comfortable enough to attend an indoor movie theater. Until the coronavirus pandemic, drive-in theaters were extremely limited. Today, there are about 330 drive-in movie theaters in the U.S. and almost 4,000 indoor theaters. Before Union Market's annual drive-in theater came to D.C. in 2013, the closest option was Bengies in Baltimore MD.
Broccoli City, who is known for hosting the largest annual music festival in Washington DC, has partnered up with Events DC to fill this void. Having kicked off in July, Park Up DC has shown many fan favorite films as well as hosted screenings for TV shows such as HBO's "Lovecraft Country" and Hulu's "Woke".
My childhood friend, Jermon Williams, is the communications director with Broccoli City and says that the Black-owned collective brought the idea for a pop-up theater to Events DC, which manages the RFK site, after Broccoli City Festival 2020 was cancelled in light of the coronavirus pandemic. The pop-up drive-in movie summer series will take place on the RFK Stadium Campus beginning on Friday, July 17, 2020 at 7:30 p.m., and will run through Sunday, October 31, 2020. Throughout the drive-in movie series, Park Up DC will feature movies for all ages. Tickets can now be purchased exclusively at www.ParkUpDC.com.
Movies are shown on a massive 45ft. wide HD LED digital screen with high-quality sound delivered through each vehicle's FM radio. Beyond movie screenings, Park Up DC will host community partner events like church services and pop-up concert experiences.
To accommodate social distancing, multiple safety measures have been put in place in accordance with Mayor Muriel Bowser's Phase Two reopening guidelines. This includes properly distanced vehicles, cashless prepaid tickets, mandatory masks worn outside of vehicles, cashless mobile delivery options from local food trucks, and fully sanitized porta potties. Each vehicle will receive information that will include a code of conduct, a parking map, restroom locations, food to order details, and an FAQ list at the point of purchase and upon arrival.
Throughout the month of October, Park Up DC will feature Halloween inspired films. Be sure to check it out for a date night, gathering of friends or a family outing. I will see you in the lot!