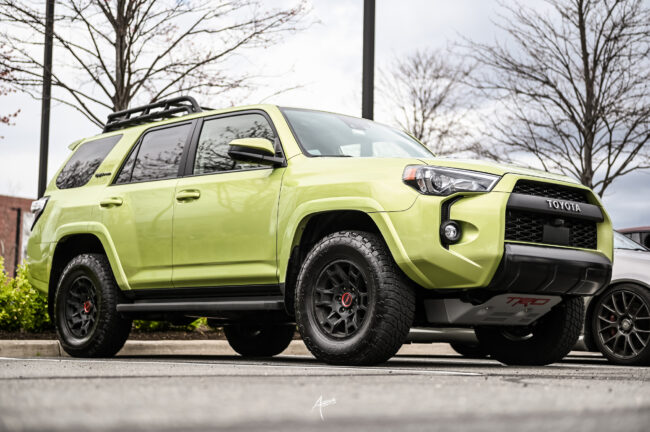 Experienced by Adrian McQueen
Photography by Adrenaline Lifestyles
Once a month, the team over in Ashburn Virginia put on an awesome car show known as Cars and Cigars. The organizers Sef, Tom, Josh, Brent, Nick, Tom are an Auto Enthusiast Group that are into Cars, Cigars and hanging out. The events bring out everything from Classic Cars, Exotics, Tuners, American Muscle, Luxury and Motorcycles. Family friendly music for all to enjoy filled the air as they walked the lot full with many rows of vehicles. The events are open to the public and to all vehicles. The motto is simple with this team, "If It's Cool, Bring It Out!!!"
Well, the 2022 Toyota 4Runner TRD Pro is definitely cool, so I brought it out. The crowd at this event is filled with more gear heads, so the conversation locked in on what is under the hood and how the vehicle actually drove. The Toyota 4Runner 4×4 TRD Pro is a 4.0-liter V6 beast that kicks out 270 horsepower with 278 pound-feet of torque. It has a five-speed automatic transmission with a 5,000-pound tow rating. The 4Runner has a part time 4WD system with Active TRAC. It has the power needed to crawl over round land with features such as standard multi-terrain select, crawl control and an electronic locking rear differential. The ride is not as smooth as crossover or SUV but not as rugged as a truck either. The 4Runner is easy to maneuver and comfortable for long hours. The 4Runner handles well, accelerates strong and brakes on demand. Patrons seemed to be impressed.
With gas prices reaching heights never seen before, I had to disclose that gas mileage with the 4Runner is a bit behind the competition. The 2022 Toyota 4Runner TRD Pro is rated at 16 miles per gallon city, 19 miles per gallon on the highway, and 17 combined.
This is a great festival-like event featuring cars, food, drinks and live music– both a DJ AND a live band. When available, I make sure to not miss this family-friendly car show. Please enjoy the photo gallery.