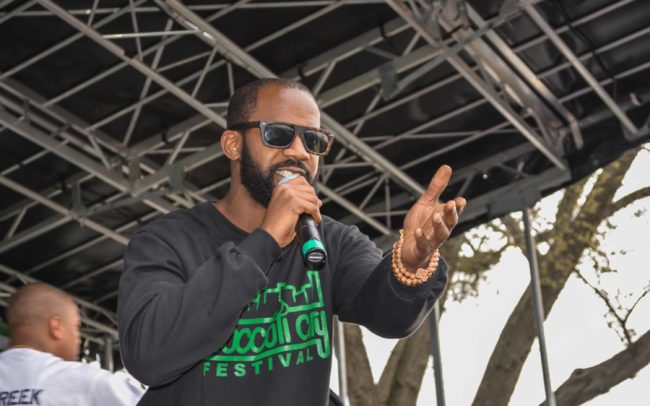 Experienced by Kalesh McQueen
Photography by Adrenaline Lifestyles
The 2014 Broccoli City Festival, where sustainable living meets music party, moved from the Half Street Fairgrounds to what once was the grounds of the notorious St. Elizabeth's Mental Hospital in Southeast Washington, DC, now known as Gateway DC. Growing up in the Washington DC area, this space was widely known, but not for entertainment. Actually, the Congress Heights area was not a place that was typically visited by those who did not live in the area due to the high crime. This was a true testament as to how the city has changed.
Gateway DC has a huge shaded pavilion area and an enclosed glass area. The increased space gave attendees more room to spread out during the day. There was easily a few thousand people in Southeast D.C. for a day filled with fitness, fun, food, and live music. The vibe was so crazy because I was able to connect with many old friends as well as get some exercise in with the go go Zumba. There were artists performing on stage, food vendors, an open-air market and workout sessions all in one place. The vibe was electric.
The music at the festival carried a variety that was great for everyone but most were there for the headliners. Chaz French and GoldLink warmed the crowed up before Just Blaze came on spinning many hits that he produced for Cam'ron. Soon after Camron came on and shut the show down, performing hit after hit from the Dipset era. Mayor Vincent Gray took to the stage to show his support and there were a few celebrity sightings with Karreuche Tran and Teyana Taylor on site to enjoy the annual festival that has taken Washington DC by storm. It was refreshing to see the racial mix in a section of DC that is predominantly African American. Please enjoy the photo gallery.