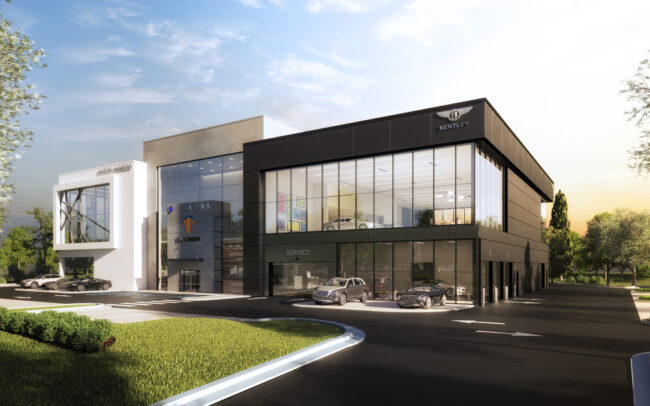 Experienced By Adrian McQueen
Photography by Exclusive Automotive Group
Coming to Northern Virginia, Exclusive Automotive Group (EAG) has broken ground to bring a State-of-the-art, world class facility to the DC, Maryland and Virginia (DMV) area. EAG is the authorized dealership of Aston Martin, Bentley, Karma and Koenigsegg in the Washington DC area. It doesn't stop there, because EAG also carries a wide array of luxury used vehicles as well from many different brands.
The groundbreaking ceremony on Wednesday, February 17th kicked off a fifteen million dollar project to build a state-of-the-art dealership at 45180 Russell Branch Parkway. EAG's management team, members of the Loudoun County Board of Supervisors, the Chairman of the Loudoun Chamber of Commerce and the presidents of Aston Martin and Bentley Motors were all in attendance for this special occasion.
"We are thrilled about our new home in Loudoun County and to become a member of Ashburn's dynamic community," said Bill Shawn, founding partner at Exclusive Automotive Group. "Besides all its great aspects, Loudoun County has also become known for its car culture. As automotive enthusiasts ourselves, we expect our new dealership will become a destination for anyone who shares a passion for world-class exotic and luxury cars."
The statement above hits home for car enthusiasts like myself. Often times you will staff from EAG at the local Cars and Coffee events, Car Rallys and even hosting some of their own events. I am excited to see that the new facility will have a lot to offer automotive enthusiasts. Features will include a car elevator, a public space between the showrooms that can be utilized for functions and activities along with a catering kitchen, all new state-of-the-art equipment in the service center, charging stations and service space for fully electric vehicles.
When completed, the 42,000 square foot facility will employ forty people and have space for 18 cars inside and 150 on the lot. There will be a 20,000 square foot, second-story showroom that will be visible to the 77,000 cars that pass by every day on Harry Byrd Highway. This is definitely what you call an automotive mega center. EAG hopes the increased visibility will attract fellow car enthusiasts to visit and share their passion for cars. Construction is scheduled to be completed in May 2022.
"Exclusive Automotive Group has always played an active role in the community, welcoming a spectrum of groups – including, and reaching well beyond luxury car enthusiasts – into its home. Breaking ground on what will become the new home of Aston Martin Washington D.C. renews their team's commitment to the people of the D.C. Metro area: come for the sense of community, and stay for the cars," said Ed Moran, Interim President of Aston Martin the Americas.
"Luxury car culture in northern Virginia has grown in recent years and it's a strong market for Bentley," added Christophe Georges, Bentley Americas President & Chief Executive Officer.
The statement by Christophe goes for more than just Northern Virginia, but for the entire Washington Metropolitan area. In DC, Maryland and Virginia, the car scene has grown immensely with more luxury and supercars being spotted all the time. EAG is owned and operated by automotive enthusiasts that are known for their events and camaraderie with fellow enthusiasts. It is only fitting that the dealership will serve as a destination for people who share a passion for world-class luxury and exotic cars.