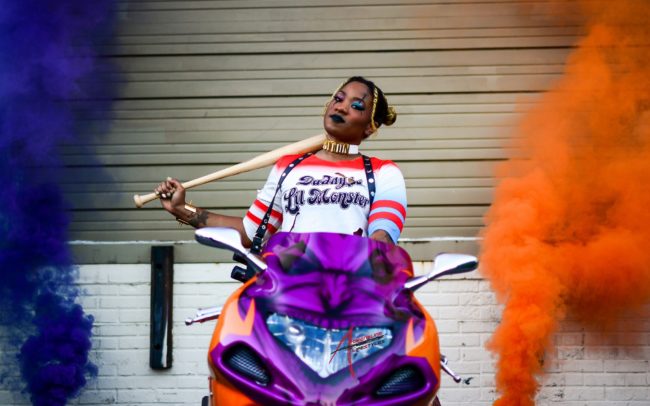 Experienced by Adrian McQueen
Photography by Adrenaline Lifestyles
October is typically known as the month where the Fall season sets in with cooler temperatures, foliage amongst the trees and Halloween festivities. Well, the Throttle Life team decided to seize the moment and perform a couple costume themed photo shoots on some of the baddest motorcycles on the street with our lovely model, Marie Star.
The first motorcycle chosen was a custom Harley Davidson. This big wheel bagger, with its black and white custom paint, deemed perfect for the Purge 3 movie themed photo shoot. With this shoot Marie portrayed the character of Kimmy, a.k.a. "Freakbride" who was originally played by Brittany Mirabile.
We had to call on our artistic friend, Jamaal Lamaaj www.JlamaajStudio.com , to create the mask, so that we could match the theme perfectly. Jamaal saw the vision, accepted the challenge and executed it flawlessly. Just like the movie, Marie demanded our attention immediately by being equally as animated and thrilling during the photo shoot as Kimmy was in the film. On this night, we Purged.
The second motorcycle chosen was a custom ( insert Motorcycle info) that is owned by (Zemley Wise) and built by (Wise Customs). This custom painted Suzuki GSXR has the Joker theme painted all the way through it.  With the recent release of the Suicide Squad movie, it was only right that Marie was brought back to show to portray that character of Harley Quinn" who was originally played by Margot Robbie.
To pull this look off we reached out to our extraordinary make up artist, Sherray Gibson www.SimplyRaye.com to design Marie's face as depicted in the film. Harley Quinn, a.k.a. Dr. Harleen Quinzel is an enemy of Batman, and partner-in-crime to the Joker and Poison Ivy. She becomes fascinated with the Joker and falls in love with him while interning at Arkham Asylum. It was a match made in Gotham that we were able to find this custom Joker painted motorcycle to match this theme. Marie set this shoot off with her seductive look, curves and smoke bombs that added a flare to the production.
Stay tuned for more from the Throttle Life team and enjoy the photo gallery.