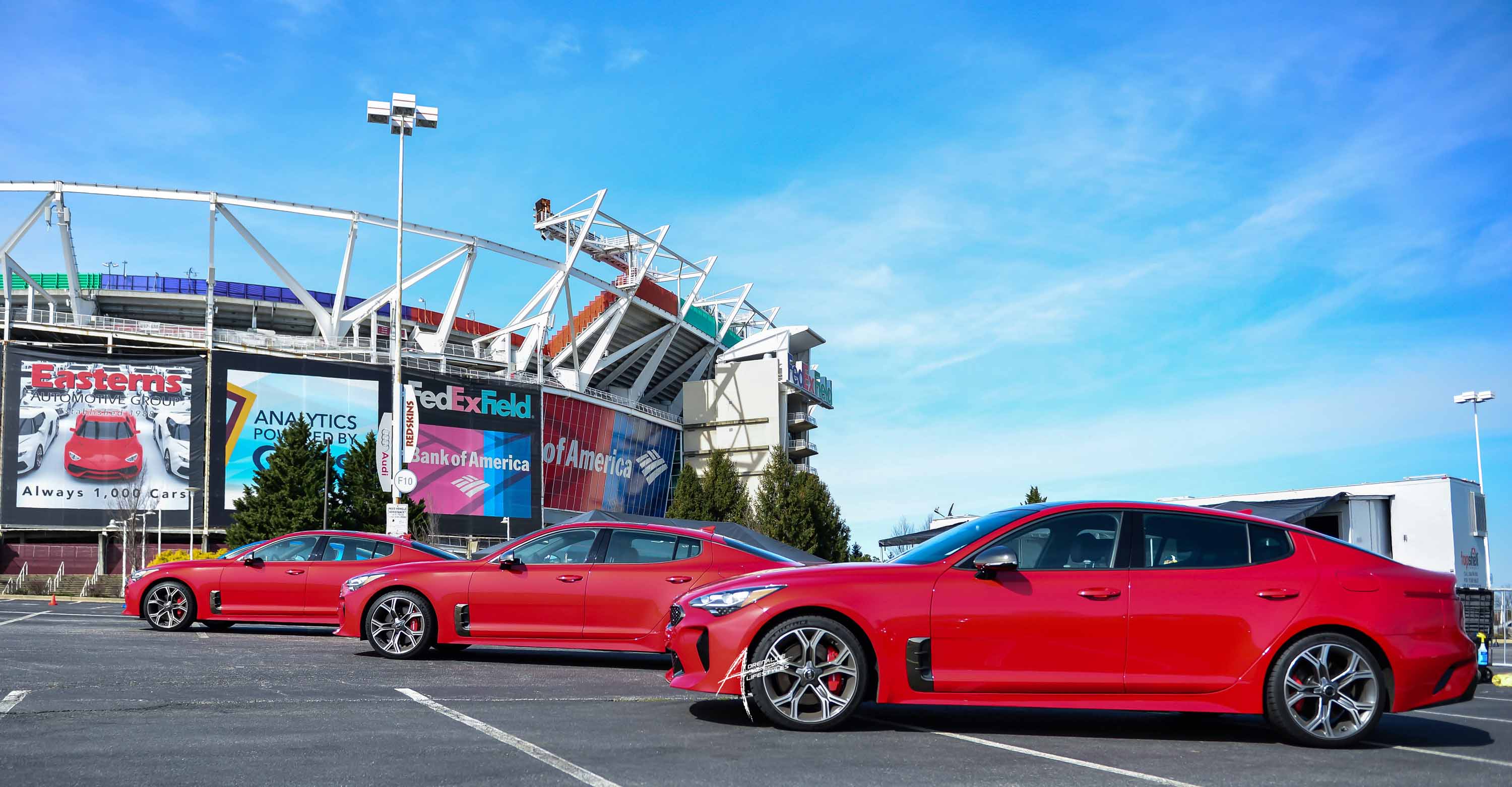 Experienced by Adrian McQueen
Photos by Adrenaline Lifestyles
Kia is creating a buzz in the car enthusiast world with the Stinger Experience tour, that will stop in Boston, Charlotte, Chicago, Dallas, Houston, Los Angeles, New York, Phoenix, and Washington, D.C. The tour made its way to Fedex field, which is a stones' throw outside of Washington DC, in PG county Maryland and home of the Washington Redskins. I received word of this wonderful event via my network within the Washington Automotive Press Association. The "Stinger Experience" is an interactive drive program that gives participants a personalized, hands-on experience with the car. You will  get the chance to run through several thrilling exercises, including a zero to 60 mile per hour sprint and an autocross-inspired slalom course.
Upon check-in guests were offered snacks and refreshments and then ushered into the Stinger Salon area to receive a presentation about the Kia Stinger and the Stinger Experience. After learning information about the Stinger and chanting "Kia, Kia, Kia" we were paired up in a small group for a walk around with a product specialist. This allowed us the opportunity to check out the interior's comfortable seats and roomy back seat. This is the first time Kia has made a rear-wheel drive sports sedan and the 365 hp V6 Stinger proved to be a beast in the 0-60 mph acceleration runs, cornering tests and the slalom course. We were able to drive the BMW 640i, Porsche Panamera V6 and Audi A5 on the same courses to compare the Kia with some of the key competitors. My run in the Stinger was fun but once the professional piloted the hot lap, I quickly realized that I did not push this Kia like it should have been driven. The professional driver literally snatched my heart out my chest, showcasing what this performance sedan is truly capable of. I just could not believe that a Kia made me feel that way.
Saad Chehab, Vice President of Marketing Communications, Kia Motors America said, "With a faster top-speed and 0-60 time than a six-cylinder Porsche Panamera, the Stinger GT is like nothing anyone has ever seen from Kia before and must be driven to be fully appreciated and understood. The Stinger Experience gives people an opportunity to see and feel for themselves just how far Kia has come, and that the Stinger can hold its head high against some of the best that Germany has to offer."
Be sure to check out kiastingerexperience.com  and register for the #StingerExperience when it stops in your town.
New York: March 24-25
Boston:  March 31-April 1
Chicago: April 7-8
Houston: April 14-15
Phoenix:  April 21-22
It was a pleasure having a chance to enjoy this wonderful experience. With a bit more drive time I will be able to give a more thorough review of the Stinger. Thank you, Kia Motors and Drive Shop for curating such an engaging event. Enjoy our photo gallery.