MEGUIAR'S® INTRODUCES ULTIMATE FAST FINISH, THE EASIEST WAY TO "WAX"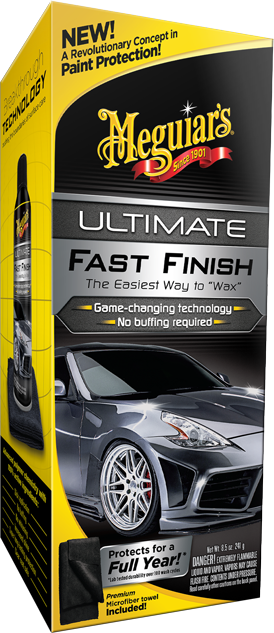 Game-changing Spray and Wipe Protection That Pushes the Boundaries of Car Care
Irvine, Calif. (2017) – Meguiar's®, the global leader in car care, today announced the launch of revolutionary new addition to its Ultimate Line of car care products – Ultimate Fast Finish, an exciting, technological breakthrough in paint protection. In what can only be described as "Amazing!" this long lasting "wax" (actually a synthetic paint coating) applies and removes without buffing, creating a slick, protective top coat that's been lab tested to deliver up to one full year of water beading protection. And since Ultimate Fast Finish does not require the time or effort of buffing to remove the product like traditional car waxes, completing an average sedan takes less than 10 minutes!
Meguiar's Ultimate Fast Finish has an advanced polymer formula that provides extreme water beading protection that lasts, while also adding gloss and slickness. As with any wax, Ultimate Fast Finish must be applied to clean paint, either with or without pre-existing wax.  In addition, the unique aerosol formula will not whiten on plastic or trim and is effective to protect all exterior surfaces except glass.  Although recommended for use on a cool surface in the shade, Ultimate Fast Finish can be applied in direct sunlight, if necessary.
To use, first make sure the paint is clean, dry and free from dust, grease and oils. Spray the product onto the included microfiber towel and apply to the desired surface; then follow with a wipe to insure even application. It's that quick and easy! Whether you're a beginner or the ultimate auto enthusiast, the product is quick and easy to apply creating a year-long protective paint barrier in just a few minutes.
Ultimate Fast Finish comes in an 8.5-ounce aerosol and includes a premium microfiber towel with an MSRP of $17.99. The product can be found on store shelves in major retailers, auto specialty stores and online merchants nationwide, beginning in early 2017.
About Meguiar's
For more than 115 years, Meguiar's has provided Car Crazy people with specialized state-of-the-art formulations for making every car's appearance show car perfect. Meguiar's provides high performance car care products for every automotive surface.  For in-depth product information, company history, hi-res images and more, please visit the Meguiar's Electronic Press Room at www.meguiarsmedia.com