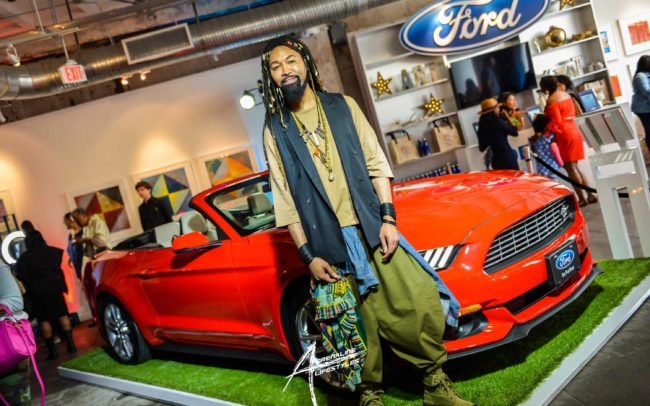 Experienced by Adrian McQueen
Photos by Adrenaline Lifestyles
Welcome to the Longview Gallery where Ford and Essence magazine presented My City 4 Ways showcasing the all-new 2017 Ford Mustang, along with a chance to experience a ride and drive in a Ford vehicle of your choice. On hand were a nice selection of vehicles such as the Ford Escape, the Ford Fusion, the Ford Mustang and the Ford f-150. Guests were treated to complimentary valet and then met by a Ford Brand Ambassador for an escort into the My City 4 Ways festivities. This event included culinary demonstrations, interactive art installations, pop-up fashion shops from local designers and more throughout the event.
My City 4 Ways is a fusion of food, music, art and style celebrating Washington, DC. The event was hosted by comedienne & co-host of The Real, Loni Love, along with ESSENCE Entertainment Director, Cori Murray. The Longview gallery transformed into a stunning and intimate boutique in DC for celebrities, musicians, influencers and tastemakers. Patrons of the event dined on complimentary hors d'oeuvres along with tea infused beverages.
Chef Daniel Thomas treated guests to a truly delicious menu in Food Alley with items such Chipotle Pulled Pork, Chill and Cumin Crusted Chicken, Fresh Spring Gazpacho, No Bake Cheese Cake, Romaine stuffed Tabbouleh and more. Music Boulevard was guided by the sounds of DJ Little Bacon Bear as DC's own Chef Daniel Thomas and Chef Tobias, Robin and Andréa McBride from McBride Sisters Wines, designer Nikki Barnes, and Make Up Artist Lola Okanlawon spoke to the crowd as a part of a panel discussion. I must say that it was exciting to recognize local DC talents that deserve the recognition. The live band really sent me over the top, being that every native Washingtonian loves GoGo music, so "We The Fix" really gave it that hometown feel.
Celebrity Stylist & Designer, Ty Hunter, discussed many fashion tips, the fashion industry and working with Beyonce. His expertise and presence was a crowd favorite. Ty also met with guests in Style Avenue alongside clothing lines District of Clothing and Justice & Outlaw. Art by Aniekan Udofia was displayed throughout the entire venue, as well as a live art installation. Guests were also able to take home a special sketch of their creative skills by coloring in a unique sketch created by Aniekan. Wrapping up the show was an electrifying performance by DC's own Ginuwine.
Again, I can't stress enough that this show truly had a hometown feel that tapped into vibes of many that attended as you could see in the smiles and hands raised across the room. Follow @Essence, @Ford and #MyFordCity on social media to check out all the fun and when the tour might stop in your city. Enjoy the photo gallery.