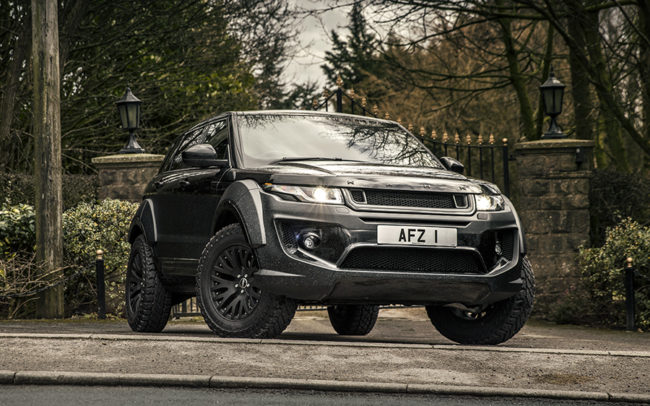 The Range Rover Evoque X-Lander Edition was built as a fitting tribute to the world famous Paris-Dakar rally.
The rally, one of the greatest off-road race events ever held, inspired Afzal Kahn and his team of designers to create a vehicle is ready to drive through any kind of terrain.
Wide front and rear wheels, a rear bumper diffuser and an aggressive looking front and rear bumper give the SUV an intimidating look.
A new bumper and diffuser combo create a clean but athletic look and house the new centrally-mounted twin cross-hair exhaust system.
To get that Rally look Kahn Design also added a new front nostril grille and twin crosshair exhaust.
The company also worked with Cooper Tyre to get those mean looking 20-inch tyres looking as Rally spec as possible.
Matched with 9×20\" RS wheels in satin black, complete with Cooper Tyres – ensure the X-Lander Edition will chew through mud and dirt.
As usual Kahn Design also bespoke the interior, this time around it's the Herringbone black leather interior and a host of other subtle cabin upgrades.
If you want to create a truly individual Evoque, then bring it over to us and we will do the rest.
This new Kahn Design Range Rover Evoque X-Lander Edition is currently available for £59,995. Customers can also custom-tailor their own Range Rover Evoque X-Lander Edition models as well.
For more information, please click on the link below: http://www.kahnautomobiles.com/availableDetail.php?i=1064#.WhbcmLgXcl1
Kahn Specification
Complete Colour Change – Our signature Cromax® paint finish
Four Door Armrests Perforated in Black Nappa Leather
Floor Mats – High Quality Heavy Duty Carpet
Twin Crosshair Exhaust System in Stainless Steel
Centre Glovebox Re-Upholstered in Perforated Black Nappa Leather
Front & Rear Seats Re-upholstered in Herringbone Leather
Door Entry Sill Plates in Stainless Steel
RS Alloy Wheels – 7.5 x 17\" in Matte Black
Dashboard Quilted & Perforated
Four Door Panel Tops in Quilted & Perforated Leather
Front Bumper Replacement Fog Lamps
Front Bumper Replacement with Integrated Vents Includes 3D Mesh Inserts
Vented Foot Pedals in Machined Aluminium
Kahn Gear Selector
Individual Paint Detailing to Wheel Arches
Extended Wheel Arches in Satin Black
Interior – Kahn Investing in British Industry Logo
KAHN Bonnet & Tailgate Lettering
Key Ring – Red Enamel with Kahn Logo
Gear Selector Surround in Piano Black
Front Grille With 3D Mesh
Rear Bumper Replacement with Integrated Vents
Cooper Discoverer All Terrain Tyres