RECARO's New Sportster GT:
The Sportster GT has a new exclusive new victory design – the sleek, lightweight shell fits perfectly into smart interiors and combines the very best of sports and purebred racing seats.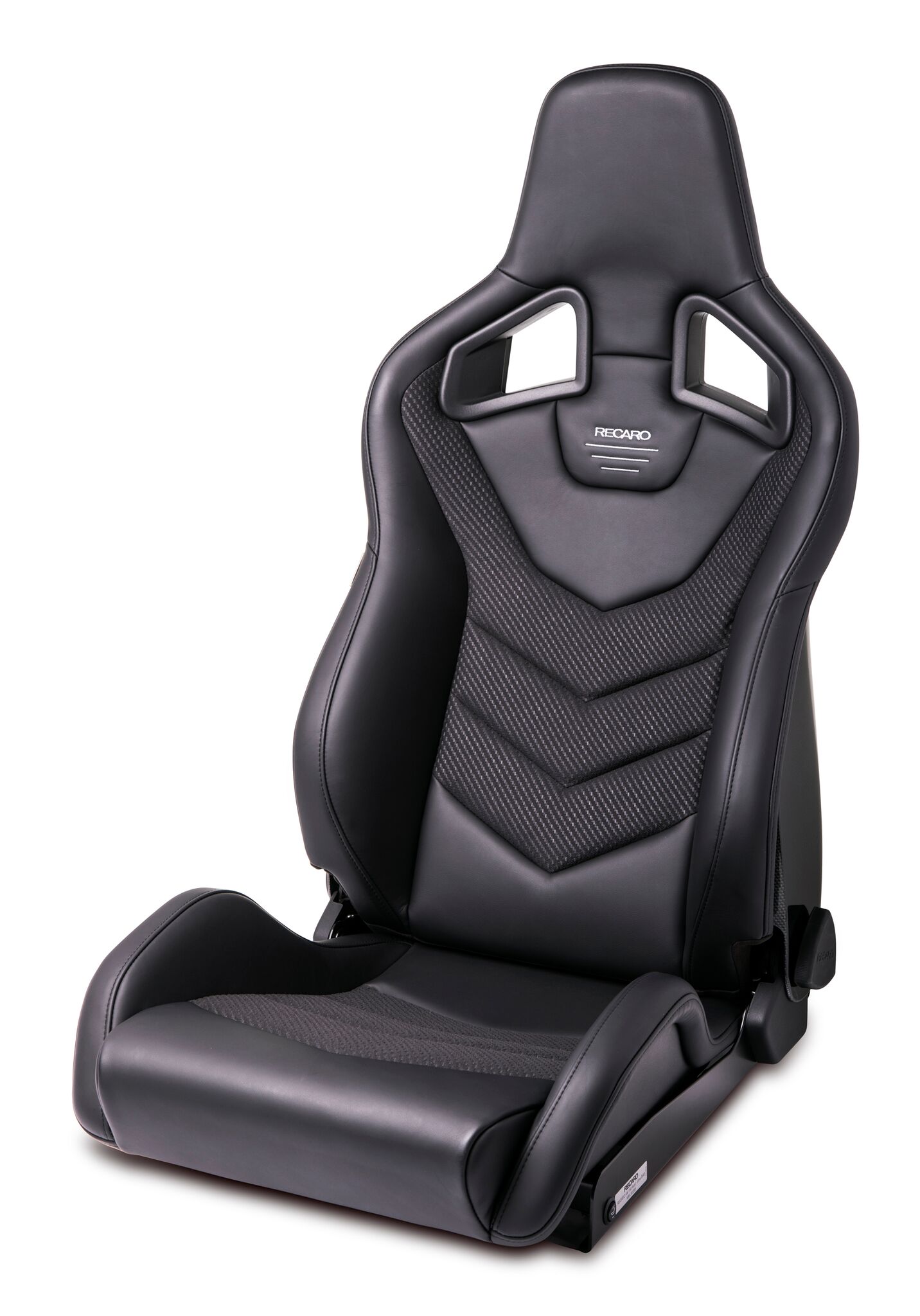 It features a sleek backrest and uses advanced performance materials ranging from high-grade leather to sport cloth. The hybrid seat design incorporates the strength of a metal base with an ultra-thin reinforced polymer based backrest. The Sportster GT's lightweight structure provides RECARO's world-renowned performance ergonomics and excellent body support. It also features new performance foam materials to ensure that the look and feel meets the on-road performance. It has:
· Integrated headrests
· Belt pass-throughs and pronounced bolstering reminiscent of racing seats
· Will be offered in five options: black cloth, three suede options (red, blue and cloud gray) plus a premium leather and carbon weave fabric
Our Sportster GT seat is based on our racing-inspired Sportster CS model, with unique design features and fabrics that will complement the styling of high-end sports cars and sports sedans. It combines the features of a sports seat and the light-weight shell of a racing seat. The innovative, reinforced polymer-based backrest provides good comfort along with optimum body support with its pronounced side bolsters and excellent shoulder support. After a long drive your body feels relaxed and you feel refreshed. You've been riding in seats with comfort and ergonomic qualities
that are reminiscent of the world's top sport-luxury automobiles.
High-End Styling and Comfort; Racing Design and Technology
FEATURES AND ATTRIBUTES
Exclusive, sporty seat design, feel and performance
RECARO proprietary ergonomics: S-shaped backrest designed to align the spinal cord in its most natural and healthy position
RECARO's proprietary integrated lumbar supporttechnology provides superior comfort and support
Metal seat base with reinforced polymer backrest
Shoulder, back and thigh bolsters designed to hold you in a correct seating position for high-performance driving
Backrest easily adjustable with a manual dial for millimeter precision
Ultra-thin backrest provides superior ergonomics, unique styling, interior space savings, and lighter weight
Integrated headrest and belt pass-through openings
Ingenious integrated side-mounts provide easy attachment to other vehicle installation hardware
Seatback tilt-forward release (providing easy access to the rear seat area) is inconspicuously tucked into the belt pass-through openings.
Flame-retardant materials
Seats available with left-side or right-side adjustment controls, for driver or front- passenger applications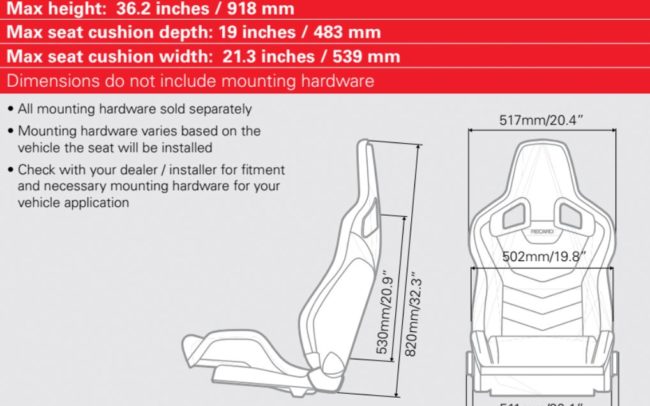 About Recaro Automotive Seating:
Recaro Automotive Seating is the premium brand of Adient. At seven locations in Germany, Poland, Slovakia, Japan, Mexico, and the USA, we design, manufacture, and market complete seats representative of our core competencies of design, ergonomics, craftsmanship, robustness, lightweight construction, and first-class workmanship, under the brand name Recaro. Recaro Automotive Seating consists of two units: While Recaro Performance Car Seating offers passenger car seats for OEMs and the aftermarket, Recaro Commercial Vehicle Seating focuses on commercial vehicle seats in the OEM and aftermarket segments. Recaro Automotive Seating uses the brand Recaro under a license of the Recaro Holding. For more information, please visit recaro-automotive.com.