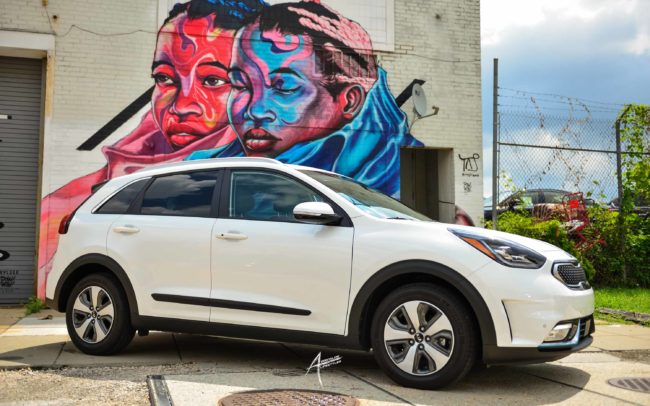 Experienced by Adrian McQueen
Photos by Adrenaline Lifestyles
I thoroughly enjoyed my time in the 2018 Kia Niro PHEV EX Premium, as I hit numerous social events, trekking around the Washington DC area. I received a vast amount compliments about the vehicle upon ones first look. This was not always the case with Kia, particularly during their early beginnings, but times have changed and so has the brand.
The Kia Niro concept debuted at the 2013 Frankfurt Auto Show as a sporty three door subcompact crossover, with butterfly doors that open into the roof panel. The Kia Niro was unveiled at the 2016 Chicago Auto Show as a subcompact hybrid utility vehicle. The Niro officially received a Guinness World Records title for the lowest fuel consumption by a hybrid vehicle, as it traveled from Los Angeles to New York City with a fuel consumption record of 76.6 mpg.
I was excited to get the chance to get behind the wheel of the 2018 Kia Niro PHEV EX Premium. I received the plug-in hybrid powertrain model for review. Kia offers a conventional hybrid and will soon add an all-electric model. The 2018 Kia Niro PHEV EX Premium falls somewhere between being considered a crossover and a hatchback.  The Niro has a high seating position, a little extra ground clearance and a versatile cargo hold. This adds to the crossover/hatchback discussion even more. The silky silver paint really stood out along with the rounded hood, upgraded 16-inch alloy wheels and LED headlights really give the exterior a quality look. I stumbled upon a few art murals that blended with the Kia Niro perfectly. This is a ride for the city driver. Great on fuel, easy to park and enough gadgets to keep today's millenials satisfied throughout the entire trip.
The interior of the Niro is decked out with leather upholstery, including the heated steering wheel. The heated and ventilated front seats are extremely comfortable with spacious legroom for the riders to stretch their legs. The Niro's cabin is wide enough four adults comfortably, but five adults is pushing it. I absolutely loved the upgraded eight-speaker Harman Kardon audio system. Nothing better than riding around to your favorite tunes with studio quality sound.
The 2018 Kia Niro EX Premium has a great infotainment system. I loved the 8.0-inch touchscreen equipped with Navigation, Apple CarPlay and Android Auto as well as a 4.0-inch TFT instrument-cluster display. The touchscreen is backed up by an array of analog buttons. The UVO eServices Infotainment System is offered, which is a subscription free OEM infotainment and telematics service. USB, auxiliary, and 12-volt ports are in the vehicle along with the wireless charging pad offered. This is a tech person's style of ride.
The Niro is a plug-in hybrid, so I knew that it wouldn't be a sports car type of ride, but a more moderate experience. The Niro uses a 1.6-liter four-cylinder engine with a six-speed dual-clutch automatic transmission. The suspension did a great job in tight corners and turns, I didn't feel as if I was being tossed around in the vehicle. The performance of the Niro is decent but don't expect to be darting around town being quick and nimble. In the Eco/Standard mode, it is a bit sluggish and slow but in Sport mode it came to life. Placed under the cargo floor and rear seat is the 8.9-kilowatt-hour battery pack. Kia has equipped the Niro with 139 hp and 195 pound-feet of torque. It is a perfect ride to get out and about in the city.
The Niro PHEV comes with great safety features such as the autonomous emergency braking, adaptive cruise control, lane keeping assist, and driver attention alert. The EX Premium model that I was able to test also has blind spot monitoring, rear cross traffic alert and parking sensors.
The EPA rates the Niro PHEV at 105 MPGe combined on electricity and 46 mpg on gasoline, with up to 26 miles of all-electric range. Kia claims a full recharge from a 240-volt level two charging station takes 2.5 hours, which we were able to verify, while charging from the parking garage at my job. The EPA-rated 26 miles of electric range is accurate and the gasoline engine kicks in once the battery life has run out.
The Niro Plug-In Hybrid qualifies for a $4,543 federal income tax credit the year it's purchased. It also earns state purchase rebates of $2,000 in New York and $1,500 in California, among other states, in addition to numerous regional and corporate incentives. The 2018 Kia Niro PHEV EX Premium that I tested came in at $35,575.
The 2018 Kia Niro PHEV EX Premium is among Kia's quality line of rides and offered at a respectable price. Key competitors that the Niro has to go up against are the Toyota Prius, Chevrolet Volt, Mitsubishi Outlander PHEV, Hyundai Ioniq and the Ford C-Max.
I am convinced that Kia's unmatched warranty is the way to go for budget friendly consumers. Kia is so confident in their new products that Kia offers a five-year, 60,000-mile basic warranty that includes roadside assistance and a 10-year, 100,000-mile warranties for the powertrain and battery pack. I believe the Niro will do well attracting younger buyers and perform as a great daily driver. All in all, it works. Enjoy the photo gallery.