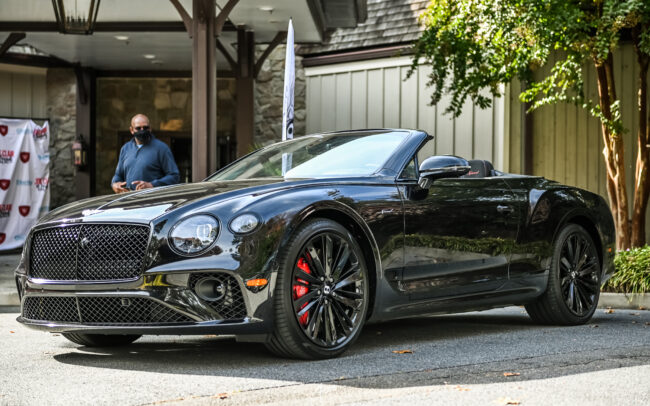 Experienced by Adrian McQueen
Photography by Adrenaline Lifestyles
This past Sunday turned out to be a bit different than my usual routine of car meet hopping with friends, being that the Exclusive Automotive Group (EAG) decided to showcase the all new Bentley Continental GT Speed Convertible at the Annapolis Town Center Cars and Coffee,  for the first time since it's Pebble Beach unveiling. As if that wasn't enough, EAG planned a rally supercar rally from the Cars and Coffee meet in Annapolis, MD to a Bentley/Aston Martin event at the Woodmore Country Club in Mitchellville, MD. This event was hosted by acclaimed comedian and radio host Joe Clair. Proceeds from the event assist the Covenant House of Greater Washington with providing meals, safe beds and more to youth in crisis.
The all new 2022 Continental GT Speed Convertible displayed came in an Onyx hue. This is the first speed edition on the new redesigned GT and pushing 650HP and 664 lbs of torque from the latest 6.0L twin-turbo W12 engine that can hit an impressive 208 mph. I loved the contrast stitching in the interior, Continental Blackline Specification and the 22″ Black painted Speed wheels. This model was even equipped with premium options such as the Touring Specification, Front Seat Comfort Specification, Naim Audio, Mood Lighting, Bentley Rotating Display, LED Welcome Lamps and a few more goodies. This model came in at $363,730.00 and definitely looked like it.
Annapolis Town Center Cars & Coffee attendees provided good company for the Bentley to be amongst. McLarens, Ferrari's, BMW's and a fleet of Aston Martins flooded the parking lot. A pair of all new Mustang Mach E's were even on site that garnered a lot of discussion from the crowd on the way that the industry is moving.  After a few photos, the group gathered together for a few instructions from David "AJ" Bilger from Bentley and Brendon Wright from Aston Martin, then we hit the road for some fun driving.
We arrived to the Country Club at Woodmore to VIP treatment. Prime parking was set aside for all of our vehicles out front of the venue, as well as for other luxury cars that were attending the event. A Rolls Royce and Lamborghini pulled up shortly after we did, so were surely in the place to be.  At the event we were treated to an afternoon of food, music, entertainment, champagne, cognac tasting by Courvoisier and cigars from Petworth Cigars throughout the beautiful clubhouse and golf course grounds. It was a nice event that supported a great charitable organization.
This is yet another example displaying that EAG is a luxury and sports car dealership owned and operated by automotive enthusiasts. Known for its events and camaraderie with fellow enthusiasts, EAG is a destination for people who share a passion for world-class luxury and exotic cars. Please enjoy the photo gallery and stay tuned for what is next.