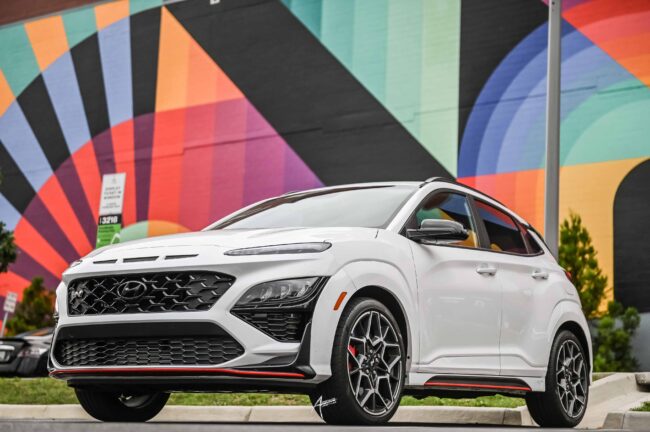 Experienced by Adrian McQueen
Photography by Adrenaline Lifestyles
Sunday Service at Sandlot Tysons at the Boro is in full swing. The summer weather set the scene for a great day. Within 15 minutes the lot began to fill up with everything from Classic Cars, Exotics, Tuners, American Muscle, Luxury and Motorcycles. Family friendly music for all to enjoy filled the air as they walked the lot full with many rows of vehicles. Meguiar's also supplied us with giveaways for the patrons.
Today was a bit special because we actually something of a reveal for the patrons. This week was our review period for the 2022 Hyundai Kona N, so we decided to showcase it and get some fan feedback.
Showcasing the 2022 Hyundai Kona was a hit. Conversation started with the exterior and patrons pointing out the N badging, a wing-type spoiler, roof side rails and LED headlights. The Kona N has a blacked-out grille, large air intakes and a growling dual exhaust. The Kona N is sporty and sleek in design and sits on exclusive 19-inch lightweight forged wheels. Some Veloster owners were intrigued by the 2.0-liter turbocharged GDI 4 cylinder engine that puts out 276 hp and 289 lb⋅ft of torque. The NGS (N Grin Shift) button on the steering wheel is a hot topic as well. It was indeed a fun day.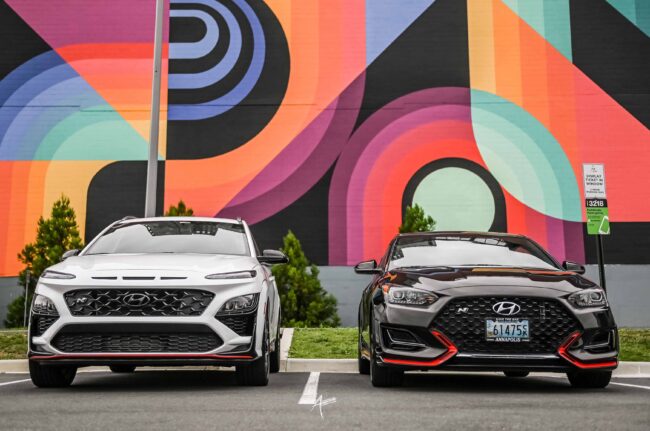 Sunday Service will take place every 2nd and 4th Sunday from 11:00 am – 1:00 pm at Sandlot Tysons which is set in The Boro Tysons located at 1640 Boro Pl, McLean, VA 22102. This event is full of nice automobiles, good vibes, great food and an epic mural wall. You do not have to own a nice car to show up. Just come out, commune with other car enthusiasts, partake in some phenomenal food and have a good time. Please enjoy the photo gallery.