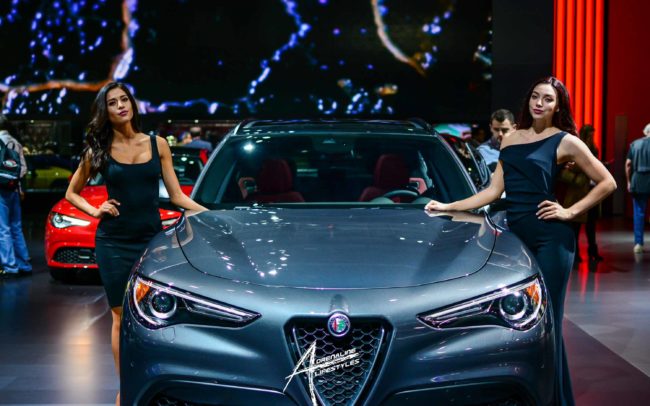 Experienced by Adrian McQueen
Photos by Adrenaline Lifestyles
The New York Auto Show is always one of my favorite shows to attend, due to the excitement and presentation of the many debuts that take place. A smooth and comfortable ride on the Amtrak train from Washington DC area allows me to prepare my mind and my camera for all sites to be seen. The show has been held annually since 1900 and for two weeks the Jacob Javits center is transformed into an epic center of automotive excellence. Whether you are into domestic, imports, luxury, aftermarket or even antique vehicles this is definitely the auto show that meets every desire.
I set my agenda for the day around the many World and North American debuts that were set to take place so let discuss a few of my favorites that I saw. The 840-horsepower supercharged 6.2-liter V-8 engine 2018 Dodge Challenger SRT Demon arrived at the New York Show, the night before media day at a special event with a start studded cast. What better way for the car to be introduced than by doing a rolling burnout on the stage. The Demon is positioned at the show in a powerful showcase by doing a wheelie. It is timed at doing 0 to 60 in 2.3 seconds and run the quarter-mile in 9.65 seconds — at 140 mph.
The FCA group didn't stop there but wowed the crowd with Jeep using a dyno machine to introduce the 2018 Grand Cherokee Trackhawk topping out at 180 mph. This Jeep can do 0-60 mph in 3.5 seconds and the quarter-mile in 11.6 seconds. The 2018 Jeep Grand Cherokee Trackhawk has a 707-horsepower engine that is also used in the Dodge Challenger and Charger Hellcat models.
Mercedes Benz showed off the AMG CLG 63 that has a twin turbo 4.0 liter V8. The big hit was the Mercedes-AMG GT R that makes 577 horsepower and 520 pound-feet of tire-spinning torque hitting 200 mph while doing 0 to 60 in about 3 seconds. Toyota stepped in with the concept FT-4X which stands for "future truck, all-wheel-drive" that literally transforms into an off road all purpose vehicle. Genesis rolled in with the GV80 Concept SUV, yes I said Genesis and not Hyundai. Many people, including myself, have to keep reminding ourselves of the brand separation.
The 2018 Lincoln Navigator gets a fresh new look, minus the gullwing doors that were seen in the concept version. The 30-way heated and cooled power front seats, twin rear video screens, 4G LTE WiFi and wireless charging inside the vehicle will make road trips fun and exciting.  The 2018 Rogue Dogue put on a great display for all animal lovers with their doggy setup. With three dogs on site, Nissan showed off the K9 ramp to the ground, doggy hairdryer, and built-in poop bag dispenser. Nissan is making sure that your pet will travel in safety and comfort.
The most interesting debut to me was the from the electric car startup Lucid Motors that showcased the Lucid Air aka the "Tesla Killer". The Lucid Air is set to hit production in 2019 and will have a 113-kilowatt-hour lithium-ion battery with a range of more than 400 miles. The twin electric motors produce a combined 1,000 horsepower, that will hit 0 – 60 in under 3 seconds. The interior of the vehicle is spacious with a laptop computer-sized touchscreen to operate most of the vehicle's functions. One of the Lucid Air prototype's set a record by hitting 217 mph, so that will sure to be intriguing a lot adrenaline junkies. Lucid will also have a $60,000 entry level version that has 400 – hp and a range of 200 miles.
After seeing all of these debuts, I had to stop by Manhattan Motorcars' display also known as "Supercar Alley". These rides aren't all debuts but some being so rare and with such a high price tag that most never see them on the road or live in person at all. These are definitely the most exotic and luxurious rides that there is on the market. This lineup included the Koenigsegg Agera RS1 that has a twin-turbo 5.0-liter V8 engine, pumping out 1,360 horses and 1,011 lb-ft of torque. This $2 million Koenigsegg Agera RS is just one of the 25 exclusive Koenigsegg Agera RS models set to be built. The $2.6 million, 1,500-horsepower, carbon fiber Bugatti Chiron surely stunned the crowd.
Croatia now has an ultra-limited electric hypercar called the Rimac Concept One that has all-wheel drive, with 1224 horsepower and 1180 ft.-lb. Rimac has made it clear that they will not be competing with Tesla, consider them on the Koenigsegg level. Bentley showed off the Bentayga, while the Rolls-Royce Dawn convertible just screamed luxury. The Audi born Spyker C8 Preliator, the British Lotus Evora 400 and the Italian Lamborghini Huracán Perfomante added the sport appeal to the section.
There is so much that the New York Auto Show has to offer that I just can't fit into this article. Do not miss the custom auto section on the lower level, camp jeep outside or the historic vehicles in the museum section. Each of these sections offer a fun and family friendly environment as well as some rides that are not seen by the daily drivers. If you aren't in New York, find a way to New York to experience this magnificent show in such a great city. Please enjoy the photo gallery.