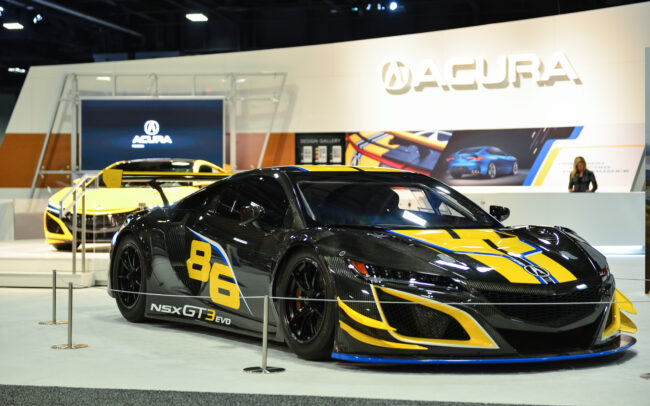 Experienced by Adrian McQueen
Photography by Adrenaline Lifestyles
Over two weeks, The Washington Auto Show has taken over the Washington Convention Center with automobiles from all of the leading car manufactures.  The Washington Auto Show is the automotive industry's annual public policy show and the largest public show held in Washington, D.C.  Along with showing off all the new vehicles on the market, the Washington Auto show offered interactive games for the kids, meet & greet with celebrities and test rides offered by numerous car brands.
The Washington Auto Show returned back to the usual winter schedule but the 5th Annual ART-of-Motion exhibit had the main lobby to the 3rd floor of the Walter E. Washington Convention as hot as summer. Curated by trendsetting urban automotive media group Automotive Rhythms (AR), the space consisted of engaging and creative eye candy including art cars, motorcycles, old schools, luxury autos, murals, a grooming station and plenty of activities that turned the car show into a family friendly party zone. The emphasis was centered on AR's talented cadre of painters who showcased visual skills live for attendees to witness and enjoy as vinyl wrapped rides were literally transformed into arts of motion.
To kick off the festivities on media day Shawn "SP the Plug" Perkins and Matt Long painted on their respective vehicles while Kimatni D. Rawlins, president and publisher of AR and founder of Fit Fathers, hosted Wisdom Martin from Fox 5 DC to inform him of the diverse aspects of the exhibit. Wisdom paid special attention to the 2020 Toyota Supra being painted as well as the custom old school vehicles that were on display.
The Honda CR-V was blessed by the talents of Juan "CRI" Pineda, a District of Columbia based visual artist with a distinctive style characterized as urban-contemporary street art. This went great with the CR-V's modern and sleek design as he laid down his Aztec styles and vision. This vehicle is now on display at Ourisman Honda of Bethesda.
Portraitist SP the Plug also brought his methods of theoretical graffiti and accuracy of simulation to ART-of-Motion using a combination of oil and acrylics on the 2020 Toyota Supra. Starting off with a racing theme, he blended in a touching tribute to Kobe Bryant and his daughter Gianna. Flames covered the hood, as those orange and red hues shot throughout the rest of the vehicle.
Jeff Huntington, aka Jahru, and Julia Gibb blessed the 2020 Hyundai Kona with his honeycomb bumble bee design. Using acrylic paint, the honeycomb came out very cool while covering the entirety of the vehicle. While Julia assisted with prep and painting the background, Jeff went to work on highlighting the bumbles bees throughout the vehicle.
Digital/graphic artist Michael Abrams displayed his Calypso Alfa/Abarth collaborative 3D-printed model car. Also showcased were various concept sketches and artwork that Michael previously created. This was a great addition to ART-of-Motion because he helped patrons envision the level of design details instilled in manufactured vehicles.
Kia provided the 2020 Kia Soul that was painted with a Winter Solstice theme by Matt Long who works with acrylic paints and sharpie markers to create fluid forms with bright colors and an engaging sense of movement. Many onlookers referred to it as the Frozen car and commenting how Anna and Elsa would be zipping around town in style while driving.
Wesley "Uncle Wiink" Bell and Josue "Corinto" Martinez came with focus by painting mural walls throughout the show during interaction with curious connoisseurs. Both Wesley and Josue are established artists that specialize in airbrush and acrylics. Wiink also painted a military themed hood for the Rev Nation crew that is dedicated to honoring vets and active military. A few of their members were set to display their custom rides in the show but were deployed just weeks before the show began.
Additional attention grabbers that captivated included customs such as the custom marvel painted G35, a high-stepping, highly modified Jeep Wrangler Rubicon, a pink bimmer with heart shaped engraved wheels, Dodge Demon Challenger with matching Demon Roadking and Polaris 1000, Fleet of Subaru STI's, a trio of old school cars, a Nissan 350Z, a custom Honda S2000 along with custom Bagger Boyz Harley-Davidson Roadglide's and Road Kings. 301 Dipz wrapped a Dodge Ram in chalk board material and laid out supplies for patrons to show off their artistic talents. It was a hit as showgoers, both young and old, made their mark on the vehicle.
Additional appreciation goes to Garvin Auto Photo, Throttle Life, Adrenaline Lifestyles, Street Dreamz, Kunza Wrap, Bagger Boyz and 301 Dipz for their continued support. Lastly, we want to thank JBL for keeping the painters laced with the latest Bluetooth clipz. Meguiar's stepped up in a major way with giveaways for the show patrons and car owners as well.
The Washington Auto Show is an event that the whole family can enjoy. Enjoy the photo gallery.