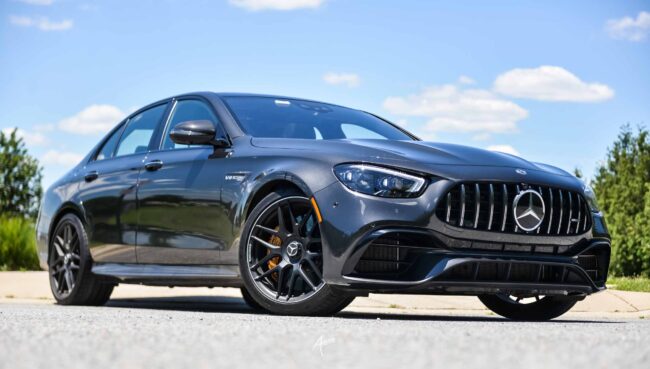 Experienced by Adrian McQueen
Photography by Adrenaline Lifestyles
Well this week was surely full of surprises when the 2021 Mercedes-Benz E63 AMG S 4MATIC popped up for a full week of review. The high-performance Mercedes-AMG E 63 S has been a powerhouse for some time now and each year it never ceases to amaze me. It is one of the most technologically advanced car Mercedes has produced. This definitely panned out to be a great week.
AMG, Mercedes-AMG GmbH, is the high-performance line of Mercedes-Benz vehicles. AMG began as an independent engineering firm specializing in performance improvements for Mercedes-Benz vehicles. Mercedes-AMG GmbH is now a wholly owned subsidiary of Mercedes-Benz AG.  AMG is more than performance. The look of the AMG model is more aggressive and it has better handling, better stability and more extensive use of custom features. With this comes with a more expensive price tag.
Upon first look you notice the restyled grille with the prominent Mercedes-Benz badge. There are horizontal slats, updated front and rear lamps, a rear spoiler and black 20-inch AMG Forged Cross-Spoke wheels. The AMG carbon fiber exterior package was a nice touch as well. The model that we tested came in a Graphite Grey Metallic hue. There are also some cooling vents up front and quad exhaust outlets in the rear along with the black-painted faux diffuser that is under the rear bumper.
The interior is just as nice with some more upgrades. The new steering wheel has larger paddle shifters and a flat bottom. There is a panorama sunroof, black cloth headliner, power rear-window shade and power heated and ventilated front seats. There is also a pair of 12.3-inch screens across the dashboard. One is for the digital gauge cluster and the other is for the infotainment system. One can also use the two screens by the pair of touch-sensitive controls on the steering wheel. Standard features include Apple CarPlay, Android Auto, Sirius XM, Voice Control, wireless phone charging and the Burmester high end surround sound system. The sound was so crystal clear and it was an added bonus to watch the tweeters twist out from their panels.
The E63 AMG S, with its hand-built AMG biturbo 4.0-liter V8 produces 603-horsepower, 627 lb-ft of torque, sets you in the same speed stratosphere of many of your favorite supercars. And please note, this is a sedan for those that request the power and dynamics of a sports car. Once I made it out to the highway, I did not waste any time before I dialed in the nine-speed AMG Speedshift MCT transmission. This is an automatic transmission with a multi-clutch pack instead of a regular torque converter. This helps with faster shift times and better handling for big torque loads.
Put it in Sport mode and I would say it is aggressive. Flip it up to Sport+ and I would say that it is breathtaking. The AMG Track Pace system allows you to log many items of vehicle specific performance data on the track. This is absolutely an adrenaline rush ready ride. The all-wheel-drive system has a Drift mode that routes all of the engine's power to the rear wheels for some sideways motion. During the testing period I pushed the E63 to its handling limits and it responded gracefully. This is a high-performance automobile with explosive acceleration and excellent handling in tight corners. Immediately I felt a rush and was nearing supercar optimization. The AMG carbon ceramic braking system is absolutely needed to slow down this German beast from greatness.
The EPA estimates that the 2021 Mercedes-Benz E63 AMG S 4MATIC this super sedan will deliver 16 mpg in the city, 23 mpg on the highway and 18 mpg combined. Considering the way this monster moves, this is not bad. You have to feed the beast.
Showcasing the 2021 Mercedes-Benz E63 AMG S 4MATIC, at my Cars and Brunch show, was a hit. It garnered so much conversation by so many demographics mainly because it is such a dual threat vehicle. It really looks like a nice daily driver sedan, with some sporty attributes to it, but it drives like a true high performance sports car. We have various Mercedes Benz car clubs that often attend, such as AMG DMV Lounge and Mercy Times, whose members own previous years models or the wagon version so their interest peaked once they turned into the lot .
The 2021 E63 S sedan received a high rating from the National Highway Traffic Safety Administration (NHTSA) and the Insurance Institute for Highway Safety (IIHS). Key safety features include, standard forward-collision warning and automated emergency braking, vailable lane-departure warning and lane-keeping assist, available adaptive cruise control, a surround view system, blind spot assist and much more.
Mercedes-Benz warranty is competitive but still does not carry complimentary scheduled service. But you are offered the Limited warranty covers four years or 50,000 miles and the Powertrain warranty covers four years or 50,000 miles
The 2021 Mercedes-Benz E63 AMG S 4MATIC sits in a highly competitive class going up against the BMW M5 Competition, BMW M8 Gran Coupe and the Audi RS7. While offering a brilliant mix of stunning performance and indulgent luxury, the 2021 Mercedes-AMG E 63 S sedan that we tested came in at $139,910.00. Please enjoy the photo gallery.