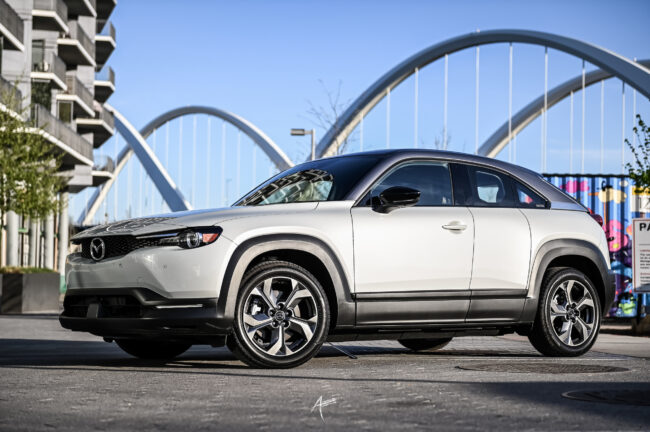 Experienced by Adrian McQueen
Photography by Adrenaline Lifestyles
Every automotive brand is stepping into the electric lane as the automotive industry continues to move in that direction. This week I was able to see what Mazda has stepped out of the gates with. The 2022 Mazda MX-30 is a subcompact crossover SUV that ready to make its mark. The MX-30 is based on the CX-30 and unveiled at the 2019 Tokyo Motor Show.
When checking out the exterior of the MX-30 you notice the sporty sleek design, small grille, LED headlamps and tail lamps, smoothed fascia and the hatchback rear. I loved the clamshell doors, referred to as "freestyle doors" by Mazda and previously seen on the RX-8 sports car and now on the BMW i3 EV. Opening both the front and rear doors gives a clear path to both front and back seats. Onlookers enjoyed that look and stopped me for conversation at every chance. One thing to note is that the front doors must be opened before the rear doors, so it has to be treated like a coupe when passengers are in the rear. The MX-30 sits on 18-inch wheels with a unique finish.
The interior decked out with black-leatherette-and-vintage brown-fabric combo along with recycled fabrics on the door panels and cork on the floating console. The designer Simona Merker made the MX-30 truly unique with these additions. The cabin also has a power moonroof, simulated leather seating, power-adjustable driver's seat, single-zone automatic climate control, a leather-wrapped steering wheel and heated front seats.
I felt comfortable in the MX-30, as the driver and passengers have a good amount of legroom. There is no frunk, which has become a popular amongst EV's, but the rear seats fold down so there is more storage space for you.
The MX-30 infotainment system features onboard navigation, a 12-speaker Bose sound system, Apple CarPlay and Android Auto smartphone integration, two USB ports, head-up information display, digital gauge cluster and the 8.8-inch center screen. As power sources the MX-30 has a 12-volt outlet and a 120-volt, 150-watt plug.
The MX-30 is powered by an electric motor supported by a 35.5 kWh battery with a power output of 107 kW 143 hp and 200 lbf-ft torque, offering a range of 98 MPGe in the city, 85 MPGe on the highway and 92 MPGe combined. This was great for getting around the city but range anxiety kicked in while it did not fair to well on the highway. Acceleration was hard and drained mileage from the battery, missing the regenerative braking. Up to 80% charge can be achieved within 30 to 40 minutes via 37 kW DC charging. The MX-30 is front-wheel drive, with no option for all-wheel drive. Overall it steers, handles and brakes with precision. I would say that it is a fun vehicle to drive.
Mazda takes safety serious and equips the MX-30 with 360-degree surround-view camera, Blind Spot Assist, Front cross-traffic alert, Forward collision mitigation, Adaptive cruise control, Rear parking sensors, Lane departure warning, Lane keeping assist, Blind-spot monitoring with rear cross-traffic alert, Rear automatic braking and a Heads-up display.
The Mazda MX-30 comes in two available trim levels, Base and Premium Plus. The model we reviewed was the Premium Plus and it was priced at $38,550.  The all-electric MX-30 is only for sale in California in the United States.
A couple things to consider are that Mazda has partnered with ChargePoint, a leading electric vehicle (EV) charging network, and MX-30 owners will receive a $500 credit toward public charging or the purchase of a ChargePoint® home charger. As an MX-30 owner, you'll have the opportunity to experience the full family of Mazda vehicles with their MX-30 Elite Access Loaner Program. MX-30 owners can select a courtesy non-EV car up to 10 days a year for the first three years of ownership for longer trips or personal needs. This is a great example showing how Mazda is willing to go the extra mile.
The Mazda MX-30 sits in a competitive class with the Hyundai Kona Electric, Nissan LEAF, Mini Hardtop 2-Door, Chevy Bolt and the Toyota Prius. Mazda covers the MX-30 with standard warranties of three years/36,000 miles of basic, five years/60,000 miles of powertrain, and eight years/100,000 miles of battery coverage. Roadside assistance is provided for the duration of the basic warranty. Please enjoy the photo gallery.