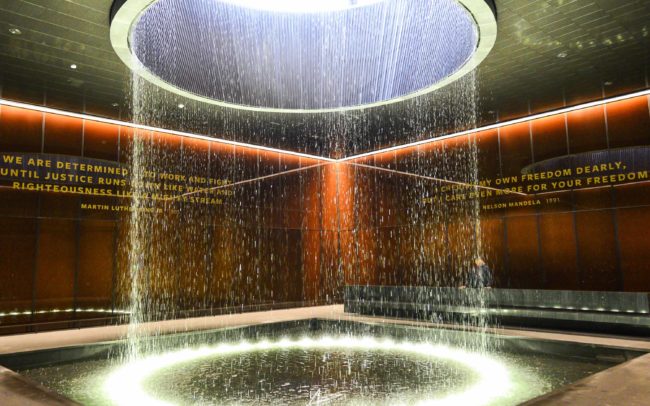 Experienced by Adrian McQueen
Photography by Adrenaline Lifestyles
The National Museum of African American History and Culture (NMAAHC) is the newest Smithsonian museum.  It was established by Act of Congress in 2003, following decades of efforts to promote and highlight the contributions of African Americans. To date, the Museum has collected more than 36,000 artifacts and nearly 100,000 individuals have become members. The Museum opened to the public on September 24, 2016, as the 19th and newest museum of the Smithsonian Institution. It is located adjacent to the Washington Monument and has welcomed more than 1 million visitors to date.  It is the only national museum devoted exclusively to the documentation of African American life, art, history, and culture. The It provides an opportunity for those who are interested in African American culture to explore and revel in this history through interactive exhibitions.
The NMAAHC was built to achieve the following goals:
It helps all Americans see how their stories, their histories, and their cultures are shaped and informed by global influences
It explores what it means to be an American and share how American values like resiliency, optimism, and spirituality are reflected in African American history and culture
It serves as a place of collaboration that reaches beyond Washington, D.C. to engage new audiences and to work with the myriad of museums and educational institutions that have explored and preserved this important history well before this museum was created.
On display the NMAAHC has Nat Turner's bible; an extensive repository of photos and film documenting everyday Black life; a segregation-era Southern Railway car; African-American ephemera examining the Double Victory Military Experience; Michael Jackson's fedora; and works by prolific artists, such as Charles Alston, Elizabeth Catlett, Romare Bearden, and Henry O. Tanner.
The NMAAHC is a public institution open to all, where anyone is welcome to participate, collaborate, and learn more about African American history and culture. In the words of Lonnie G. Bunch III, founding director of the Museum, "There are few things as powerful and as important as a people, as a nation that is steeped in its history.  This Museum will tell the American story through the lens of African American history and culture. This is America's Story and this museum is for all Americans. "
It was a powerful but simultaneously emotional experience. The entire exhibit is too much to consume in one visit, so this is just a glimpse into all that is to see there. I hope that you enjoy the photo gallery.